Everything you need to know about the Uncharted movie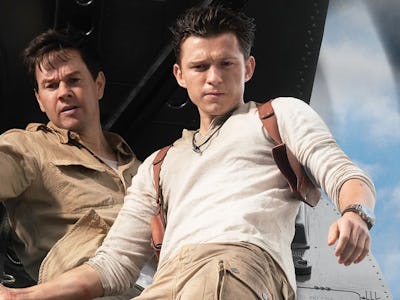 Sony Pictures
After spending more than a decade in development hell, the Uncharted movie, based on the award-winning video game franchise, is back on track. Developer Naughty Dog is the same studio behind other beloved franchises like The Last of Us and Jak, the former of which is receiving a TV show adaptation. Uncharted stars the charming but bumbling treasure hunter Nathan Drake as he searches for lost treasures around the world. The film will be a prequel to the video games and will focus on a reinterpretation Nathan's origins. But what exactly will the story entail? And how will it fit with the games? Here's everything we know about the upcoming Uncharted movie.
When is the Uncharted movie release date?
The Uncharted movie is currently scheduled for release February 18, 2022. The latest trailer, however, simply says the film is expected to release exclusively in theaters "soon."
Is there an Uncharted movie trailer?
Yes! the first trailer for the Uncharted movie was released October 29, showing fans a first look at footage from the film. As expected, the two-minute clip features lots of high-flying action wisecracks and those insane set piece moments that have made the source game series so iconic. The trailer also features our first glimpses of Mark Walburg as Sully (without the mustache), Sophia Ali as Chloe Frazer, and Tati Gabrielle in an unspecified role.
Beyond trailers, Nathan Drake actor Tom Holland has also posted this photo of him in costume as the adventurer.
From this tiny snippet of the film, we can see that the Uncharted movie has done its best to replicate Nathan Drake's signature look from the game including his iconic ring.
Uncharted 4 Game Director Neil Druckmann was quick to point out that Holland's shirt is completely untucked. In the games, Nathan Drake constantly sports a half-tucked shirt. Maybe this can be edited during post-production or Holland will have a moment where he triumphantly attempts to tuck his shirt in, but only gets halfway?
What is the Uncharted movie's story?
The movie's initial plot description was also revealed alongside the Uncharted trailer.
Fortune favors the bold. Based on one of the best-selling, most critically acclaimed video game series of all time, Uncharted introduces audiences to the young street-smart Nathan Drake (Tom Holland) and showcases his first treasure hunting adventure with wisecracking partner Victor "Sully" Sullivan (Mark Wahlberg). In an action-adventure epic that spans the globe, the two go in dangerous pursuit of "the greatest treasure never found" while also tracking clues that may lead to Nathan's long-lost brother.
That treasure, apparently, appears to be tied to the path that explorer Ferdinand Magellan used to circumnavigate the globe.
How does the Uncharted movie fit in with the games?
As we said previously, the film is supposedly a prequel focusing on a younger Nathan Drake that takes inspiration from the games.
Drake first meets Sully at age 15 in the games. When they meet, Drake is sporting bangs and a baseball tee. He has yet to begin dressing in what we might as well call his signature costume. Yet in the film, Drake has already started gelling his hair back. It's possible that this story is taking some liberties with the narrative, as most adaptations do.
In fact, the film's October 21 trailer offers more evidence that this adaptation will feature a remixed version of this origin story. The short clip shows Sully meeting Nate presumably in his early 20s while he's working as a bartender. Ali's version of Chloe also suggests there could be slightly bigger age gap than we see between the two characters in the games. In short, we expect a cinematic story that captures the tone of the source material but leaves most of their narrative behind other than the personification of its key characters.
Who is in the Uncharted movie's cast?
The Uncharted movie currently has six announced cast members.
We currently know that Tom Holland plays Nathan Drake Sophia Ali plays Chloe, and Mark Wahlberg plays Victor Sullivan.
Antonio Banderas and Tati Gabrielle are cast in currently undisclosed roles. It's unknown if they'll portray original characters or adaptations of in-game characters.
Who are the Uncharted movie's director and writer(s)?
The movie will be directed by Ruben Fleischer, who previously directed the Zombieland films and Venom.
Uncharted will be written by Art Marcum and Matt Holloway. The pair previously wrote the original Iron Man film and Men in Black: International.
Why has the Uncharted movie been seemingly delayed so many times?
In short, the film is being held up by a mix of scheduling and quality control. From what we've heard publically, each director and actor that had been attached to the film at one point or another eventually had to leave to work on other projects. The Uncharted film seems intent on not being another bad video game film. There have been multiple writer changes as well. Neil Druckmann once commented that they need to get the character relationships right for the film to work.
"The most important part to get right is Nathan Drake, Nathan Drake's relationship with Elena and Nathan Drake's relationship with Sullivan. If you don't get that right, I don't think the film's going to work. If you get that core right, there's a chance it could work, " said Druckman in 2016.
Read also: Everything we know about HBO's The Last of Us TV series.
This article was originally published on