How a Metal Band Is Using Gaming to Redefine How We Experience Music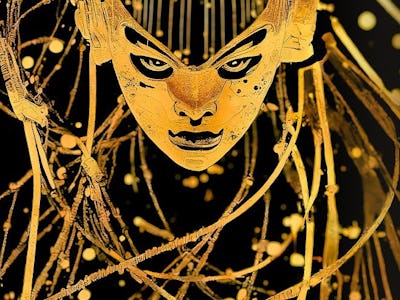 4D Music Ltd
For progressive metal band TesseracT, making music isn't enough.
To promote its upcoming record, War of Being, a small development team — which includes TesseracT's singer, Dan Tompkins — designed a first-person sci-fi VR exploration game that ties to the album's themes, immersing you in the music. The game, also titled War of Being, is available in early access on Steam and is playable both in VR and non-VR formats.
To entice people to play, TesseracT released its single "The Grey" within the game. Until now, this kind of immersive game/music tie-in hasn't really been done before.
"It is very much a way of creating a new medium to consume music," Tompkins tells Inverse.
War of Being plays out like a narrative adventure game such as What Remains of Edith Finch, but with greater emphasis on exploration and puzzles. Players must unlock all components of "The Grey" by locating the band's five members, who are spread out across the levels. The player is then rewarded with the full track, a six-minute banger with catchy riffs and plenty of grooves — all things TesseracT is known for. It's a novel idea that allows the player to explore the music in a refreshing way.
Tompkins says TesseracT had gotten frustrated with the traditional album cycle, which usually involves writing a record, releasing a music video, touring — then doing it all over again.
"I saw a gap and I wanted to make it happen," Tompkins says. "What can we do that's exciting and going to tap into a new audience?"
Björk's Vulnicura VR experience might be the closest parallel to this experience, but War of Being feels much more like a traditional video game. And that's no accident.
"We didn't want to frustrate non-gamers by making them play 10 hours just to listen to a song," Tompkins says. "We wanted to make sure it was fit for every type of person, to a point. We decided to cater to those people who don't play games, because we're trying to cross over the genre."
That's a major reason War of Being can be completed in around an hour or so, and costs $6.
"The main premise is to explore the band's music," Tompkins adds. "It's the equivalent of having a nice gaming experience, but also buying a record. I want it to be affordable."
The concept originated while Tompkins was performing for fans on Twitch using ChatVR. Eventually, this led to a virtual recreation of his studio, along with a lounge, a cinema, and a merch area to evoke the experience of a live show — all from the comfort of home. As the War of Being album concept evolved, the idea for a VR experience naturally came together.
"Wouldn't it be amazing if we could be one of the first bands to create a Metaverse to gather all the fans?" Tompkins recalls asking. And from there, he says, the concept "just rocketed into a game idea."
But for an inexperienced developer, bringing this idea to life was a herculean task.
"I dropped everything," Tompkins says. "I lost a year's worth of income, just to focus on making this happen." He says the team "learned Unreal Engine 5 from scratch," as well.
"We're a modest metal band," Tompkins says. "We're not a Slipknot with all the funds and the means to make these things happen. So for us, it's a massive risk."
It seems the risk has paid off, as War of Being currently holds a Very Positive rating on Steam.
To cater to a wider audience, TesseracT also created a non-VR version, which Tompkins says effectively doubled the workload.
"A lot of people don't have VR, so they're going to naturally migrate towards desktop," Tompkins tells Inverse. "We're trying to raise the level of [the non-VR] experience to match what we're doing in VR. Although VR is in a bit of a lull, is very expensive, and is still a maturing medium, I do feel like in the future — when it's more cost-effective and improved — more people are going to want to use it."
However you play War of Being, it's an atmospheric experience that demands your attention, sprinkling intrigue throughout thanks to its expansive levels and immersive design.
TesseracT has lofty plans for War of Being's future, including potentially expanding the game's scope. Tompkins hopes it will someday include a "big inventory system," wherein the player will have to collect materials to craft weapons and other items. Since Fear is the main antagonist of the game, players will eventually need to defeat it.
Whatever the future holds for War of Being, Tompkins says his experience of making the game was a "luxury" — and an opportunity to make a bold statement.
"Life throws so many curveballs at you," Tompkins says. "This is the time to make the best possible thing we can."
War of Being is available on Steam, and the album launches on September 15, 2023. Players can learn more by joining the official TesseracT Discord channel.