Hot Ganondorf and 9 More Wild Street Fighter 6 Recipe Codes
Including the Mad Dog of Shimano!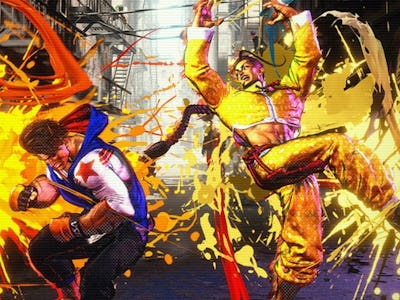 Capcom
As far as modern fighting games go, you can't beat Street Fighter 6. The latest entry in the long-running franchise that defined the genre has updated the formula with a number of improvements that make it perfect for returning fans and newcomers, such as the varied control types. The game also includes an RPG-like story mode called World Tour which allows you to create your own fighter.
While you could make yourself or spend hours messing around with sliders to find the perfect character, the game also lets you enter codes for avatars made by other players. This has led to some incredible creations, and familiar faces, entering the ring in Street Fighter 6. Here are ten of the best Street Fighter 6 avatar codes to use.
10. Makima
Code: CW65HB5MR
The desire of Chainsaw Man simps everywhere can now be yours to play in Street Fighter 6. This design nails the creepiness of Makima that comes from her signature eyes and overall demeanor.
9. Kratos
Code: BKYU8E8TL
Every game with a character creator needs to have its version of Kratos, Street Fighter 6 is no different. Now you can beat up Ryu like he is a Greek god.
8. Hellboy
Code: LAMEVBRQ3
The Right Hand of Doom is the perfect weapon to bring into a battle of fisticuffs, so Hellboy fits right alongside the other fighters in Street Fighter 6.
7. Ganondorf
Code: NLD3L8XMP
Every game should have foxy Ganondorf. Now Street Fighter 6 can, which makes at least two games with foxy Ganondorf this year, so we are getting somewhere.
6. 2B
Code: LYVSBYF9P
The no-nonsense android from NieR: Automata is ready to bring her ass-kicking abilities to Street Fighter 6.
5. Geralt of Rivia
Code: WS53WJ9YY
All I'm saying is that The Witcher 3 established there are multiple universes that Geralt can travel to (with the aid of Ciri) so maybe this is the canonical Geralt throwing down in Street Fighter 6.
4. Poison
Code: BKXWPXWN6
While Capcom may eventually bring Poison to the game officially with DLC, why wait? This recreation of the pink-haired fighter brings Poison into the game right now!
3. Goro Majima
Code: JCTWNUL5R
Yakuza character Goro Majima is already familiar with kicking and punching people for a living, now he can do it alongside E. Honda.
2. Raiden
Code: MBYBKT6WW
While you won't be able to slice enemies into a million pieces, Raiden from Metal Gear Rising: Revengeance still looks just as cool as ever in this recreation for Street Fighter 6.
1. Taylor Swift
Code: JBHRRKA3H
Shake up the competition with this recreation of Taylor Swift that is beyond any Swifties' wildest dreams. Now you can have bad blood with Chun-Li and decide what your reputation will be in Street Fighter 6.
Street Fighter 6 is out now on PlayStation, Xbox, and PC.