Everything we know about Star Wars: Squadrons
The Skies have never been so fierce.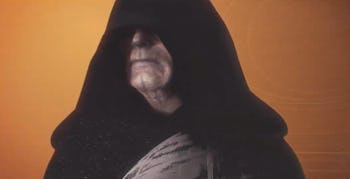 Star Wars video games returned to the limelight last year when EA released Jedi: Fallen Order, which surprisingly "doesn't suck," according to our review. Another high-quality Star Wars adventure might soon arrive in the form of Star Wars: Squadrons, a space dogfighting game that was once referred to as "Star Wars: Project Maverick."
EA officially announced the X-Wings vs. Tie Fighters throwdown on June 15, with a thrilling cinematic trailer. The developer revealed a first look at gameplay during EA Play on June 18. There's a lot to look forward to about Squadrons — have we finally turned the corner on years of half-baked games based on the beloved IP? We'll be watching as closely as you are.
In the meantime, here's everything we know about Star Wars: Squadrons.
When is the Star Wars: Squadrons release date?
Star Wars: Squadrons will release on October 2, 2020 for PS4, Xbox One, and PC at a price point of $39.99. It's fully playable in VR on both PC and PSVR.
Is there Star Wars: Squadrons gameplay?
Yes! Gameplay was revealed on June 18 at the EA Play event. You can watch the first gameplay snippet below.
From the trailer, we can see that Star Wars: Squadrons is a first-person experience focused on space combat using a variety of ships from the canon. The developers have painstakingly created an accurate portrayal of what it feels like to pilot a Star Wars spaceship for both the Empire and New Republic while trying to not make the game feel too pandering.
"The lore says TIE Fighters don't have shields, so we don't have shields on our TIE Fighters," Squadrons' creative director, Ian Frazier, mentioned during an interview with Polygon.
Frazier mentioned that PC players will be able to use the immersive flight simulator controller setup, HOTAS to make the experience even more realistic. He also hinted that something similar might be available for consoles at a later date. You can see this accurate portrayal in action on ship dashboards.
Players can minutely control their ship right down to where they direct power. Despite this UI precision, Squadrons is far more than a mere flight simulator.
Squadrons' ship hangar will include A-wings, U-wings, X-wings, Y-wings, TIE Fighters, TIE Interceptors, TIE Bombers, and TIE Reaper fighters. Each one fits into a class like Fighter, Interceptor, Support, and Bombers. You'll need all four to win a match.
Squadrons will feature both single-player and multiplayer elements. Similar to Star Wars: Battlefront II, Squadrons' primary focus will be on multiplayer, with the campaign being secondary.
What is multiplayer like in Star Wars: Squadrons?
In multiplayer, you'll play 5v5 team matches like "Fleet Battles," where you and your teammates will unite to destroy an enemy flagship. The other announced mode is a more traditional team deathmatch setting where the two five-person teams will go at it in a dogfight to rack up the most kills. Yavin-Prime and a shattered Galitan moon are the only announced locations as of yet. However, the original leak showed a planet similar to Mustafar.
By playing matches, you'll earn cosmetics like cockpit alterations, exterior changes, and new pilots. There's also a bounty of weapon modifications to earn for each vehicle. Everything can be obtained by playing the game naturally. Squadrons will not feature microtransactions. Frazier has made clear that Squadrons is "a fully self-contained experience."
You can play Squadrons with your preferred controllers and friend groups. Squadrons will feature cross-play for all available platforms, marking one of the only games to allow PS4 and Xbox One gamers to play together.
Will Star Wars: Squadrons be playable in VR?
Every episode of the single-player story will be fully playable in VR, EA Motive devs announced at Gamescom Opening Night Live on August 27. At present, it's not clear whether or not multiplayer will be supported in VR.
What is Star Wars: Squadrons ' story?
Star Wars: Squadrons is expected to focus on the Empire's attempts to fend off the burgeoning New Republic. It takes place shortly after the events of Return of the Jedi, and gives Star Wars fans an enticing new look at what Leia was up to right after the Emperor's fall.
"The vast majority of the single-player story takes place after the Battle of Endor, like a few months after Endor, but well before the battle of Jakku," Frazier said. There's a possibility that it will exceed that placement, delving slightly into sequel trilogy stories, just as Battlefront II did.
You'll play through two pilot characters: one that flies for the Galactic Empire's Titan Squadron and another for the New Republic's Vanguard Squadron. Throughout the story, you'll alternate between the two protagonists to get a full perspective of the new world following the Empire's defeat.
At Gamescom 2020 on August 27, EA Motive devs revealed an early mission from the Imperial side of the story, focusing on a dogfight with New Republic X-Wings above Hosnian Prime, which you might remember as the planet that gets nuked by Starkiller Base partway through The Force Awakens. We wouldn't expect too many shocking revelations, but it seems like Squadrons could connect a few more dots between the original trilogy and the sequels than we intially expected.
Will original trilogy characters appear in Star Wars: Squadrons?
To our surprise, the new footage of Star Wars: Squadrons shown at Gamescom Opening Night Live revealed that Princess Leia and even Emperor Palpatine will appear (the latter in propaganda form, presumably) in the space-combat game. Leia doesn't particularly sound like Carrie Fisher, but there's no mistaking that trademark hairstyle.
Along the way, you'll also encounter iconic characters from across canon. Hera Syndulla (Star Wars: Rebels) and Wedge Antilles (Star Wars Original Trilogy) both appeared in the initial trailer.
What studio is developing Star Wars: Squadrons?
Star Wars: Squadrons is being developed by EA Motive. The studio has yet to put out a major release, but the team is primarily known for working on Star Wars: Battlefront II's excellent campaign mode. Motive previously collaborated with Visceral games on a now-canceled Star Wars game called "Project Ragtag." You might recognize Project Ragtag as the title initially led by Uncharted 2 writer Amy Hennig. It's unknown if this game continues what Ragtag intended to do in any capacity or if Amy Hennig is associated with the game.
Motive's dev team is primarily comprised of former Bioware Montreal developers, the folks who released Mass Effect: Andromeda in 2017. After Andromeda, EA Motive absorbed BioWare Montreal's entire staff. The developers are presumably still employed there and contributing to this title.
Was Star Wars: Squadrons leaked?
Yes. Squadrons was leaked in March 2020 as Project Maverick.
The "PSN releases" Twitter account, which leaks data-mined information from the PSN store, shared some kind of teaser image for the game on March 4 as it was added to the European PSN store. The tweet refers to the game simply as Maverick. It's the same game hinted at in a February 2020 Kotaku report claiming that Electronic Arts was developing a Jedi: Fallen Order sequel and a "smaller, more unusual project at EA Motive."
The teaser image (featured above) shows a single Imperial Star Destroyer and a small squadron of X-wing fighters on some kind of fiery planet reminiscent of Mustafar. That planet has yet to be announced or featured for the proper game.
Where can I watch the Star Wars: Squadrons trailer?
Right here!
Star Wars: Squadrons will release on October 2, 2020 for PS4, Xbox One, and PC.
This article was originally published on