Jedi: Survivor PS4 Version Reveals a Surprising Truth About Next-Gen
Out with the new, in with the old.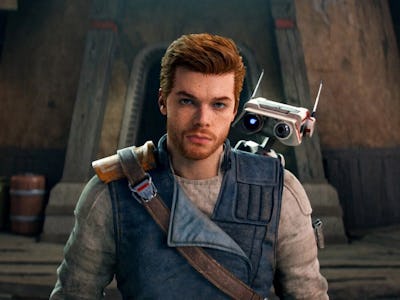 Electronic Arts
Following the PS5 and Xbox Series X|S release of Star Wars Jedi: Survivor, Electronic Arts has revealed that the game will also come to PS4 and Xbox One. As relayed by IGN, EA announced during a recent earnings call that a last-gen version of Survivor is "in the early stages of development."
Although the PS5 and Xbox Series X|S are nearly three years old, they've been difficult to acquire throughout their lifecycles. Launching the systems with supply constraints didn't do them any favors, and up until recently, it was tough to find a PS5 or Xbox Series X|S on store shelves. Sure, both systems are selling well, but manufacturers have struggled to keep up with demand since day one.
Star Wars Jedi: Survivor is still one of the bestselling games of the year, but keep in mind, it only launched on current-gen systems and PC. Had it been released for PS4 and Xbox One as well, it might rank higher among the year's bestselling games. Keep in mind, the PS4 has reached over 117 million units sold, while the Xbox One is sitting at around an estimated 50 million sold. Combined, that's 167 million players — a massive install base that is still too large to ignore.
So, it makes sense that Electronic Arts wants to reach an even wider audience by launching Jedi: Survivor on last-gen systems. The last-gen ports won't negatively impact the development and support of the current-gen edition of Jedi: Survivor.
"Additional performance improvements for PC, PlayStation 5 and Xbox Series X|S remain a top priority at Respawn and the team will share more information as soon as the next update is ready," EA said. Ultimately, this is a win-win for all players, as last-gen users will eventually get to play Jedi: Survivor, while EA will continue to support the current-gen edition.
Sadly, PS4 and Xbox One players will have to wait until an undisclosed date to get their hands on Jedi: Survivor. But this is a small price to pay, as it beats the alternative of not getting a last-gen version at all. We saw a similar rollout with Hogwarts Legacy, which initially launched for PS5, Xbox Series X|S, and PC, before releasing for PS4 and Xbox One months later. This certainly helped push Hogwarts Legacy to become the bestselling game of the year.
Given the sheer number of games that still continue to launch for last-gen consoles to this day, it's clear many publishers are on the same page: Last-gen systems have too large an audience to ignore. While we have seen a handful of "true" next-gen exclusive games like Demon's Souls on PS5 or the upcoming Starfield for Xbox Series X|S, nearly all of the top-selling games of 2023 have launched for PS4 and Xbox One, as well.
It's likely publishers will continue to release games for last-gen until the audiences for PS5 and Xbox Series X|S have grown to a certain point. Both systems are selling well, with the PS5 reaching over 40 million units sold, while Xbox Series X|S is at around 21 million units sold, but until they have wider audiences, don't expect to see last-gen fade away any time soon.
For reference, Xbox 360 and PS3 games continued to release in 2016 and even 2017 — several years after the launch of the PS4 and Xbox One. So, if that's any indication, we'll still continue to see last-gen ports of games for another couple of years or so.
Star Wars Jedi: Survivor is available now for PS5, Xbox Series X|S, and PC.