Here's Exactly When You Can Start Playing Marvel's Spider-Man 2
My spider sense is tingling.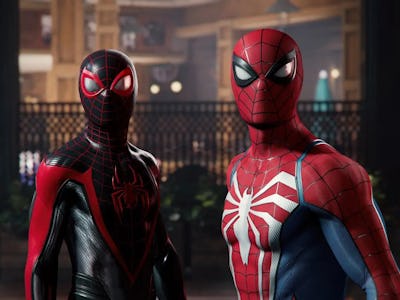 Insomniac Games
Marvel's Spider-Man 2 is one of the most anticipated games of 2023 following the success of Marvel's Spider-Man and Marvel's Spider-Man: Miles Morales. The third entry in the series continues the story set up by its predecessors, this time uniting Peter Parker and Miles Morales as they take on the biggest threats to New York City yet.
Here's everything you need to know about Spider-Man 2, including when you can play and how much space you'll need to download it.
When Is the Spider-Man 2 Release Date and Time?
Spider-Man 2 launches on Friday, October 20. Unlike some other recent game releases, there's no early access period for Spider-Man 2, so everyone will be able to start playing at the same time.
As for its exact release time, Insomniac Games hasn't yet made an announcement, so it's safe to assume that Spider-Man 2 will follow the launch schedule that most games do on PlayStation 5. That means you can expect to start playing at midnight local time on October 20. However, it's common for games to release at midnight ET across the entire U.S., so if you live in another time zone, it may be worth checking if you can start playing a bit earlier. If that's the case, players on the West Coast will get the most out of it, as that would put the launch at 9 p.m. PT.
Is Spider-Man 2 Available on PlayStation 4?
Both Spider-Man and Spider-Man: Miles Morales were available on PS4 at launch. Unfortunately for anyone who hasn't yet upgraded to Sony's latest console, that will no longer be the case. Spider-Man 2 is only playable on PS5, making it one of the biggest exclusives on the platform so far.
Can You Pre-Load Spider-Man 2?
Yes! As long as you've pre-ordered a digital edition of Spider-Man 2, you can already start pre-loading it. Just head to the PlayStation Store on your console and the option to pre-load should appear where the option to buy the game used to be. You'll be able to pre-order the game right up until release if you haven't done that yet but still want to start downloading Spider-Man 2 early.
What Is the Spider-Man 2 File Size?
Before launch, the Spider-Man 2 limited edition box suggested having 98 GB of hard drive space free to install the game. Now that pre-loading is available, it seems the actual install size is a bit smaller, clocking in at 86 GB. That's more than double the original game's 45 GB requirement, and almost twice the size of Spider-Man: Miles Morales, which was 54 GB.
What Are the Spider-Man 2 Pre-Order Bonuses?
Whether you go with the digital or physical edition, Spider-Man 2 includes a handful of in-game bonuses with your pre-order. Anyone who pre-orders the game can unlock Peter's Arachknight Suit and Miles' Shadow Spider Suit early, and both will include three additional color variants. You'll also be able to unlock the Web Grabber early and get three skill points at the beginning of the game to start powering up.
Marvel's Spider-Man 2 launches on PlayStation 5 on October 20.