Spider-Man 2's Most Annoying Flaw Reveals a Bigger Problem With the Sequel Game
Is Insomniac running out of ideas?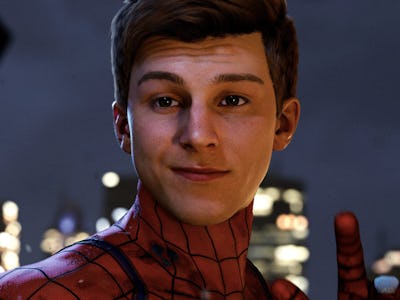 Insomniac
Close your eyes and imagine the ideal Spider-Man game. It probably involves a lot of web-swinging through New York, a sprawling rogue's gallery that includes fan favorites like Venom and the Green Goblin, and a heartfelt story about Peter Parker (or Miles Morales) struggling to balance the great responsibilities of being a superhero with personal commitment to friends, family, school, and work. One thing you probably didn't picture? A Guitar Hero-esque DJ simulator mini-game. But apparently, that's something Spider-Man 2 developer Insomniac Games felt was a necessary part of the Spidey experience.
Out now on PlayStation 5, Spider-Man 2 is absolutely lousy with useless mini-games. In my dozen hours so far, I've played carnival rides in Coney Island, piloted a drone to protect bees from predatory wasps in a high-tech laboratory, sprayed graffiti in Little Odessa, and, suffered through that bizarre DJ challenge. And that's just a small sampling of the mini-games scattered throughout Spider-Man 2.
Of course, plenty of great video games have built-in mini-games. You can play the fictional card game Gwent in The Witcher 3 (and also IRL, thanks to a spinoff title) and race boats in The Legend of Zelda: Tears of the Kingdom. But the difference is that those mini-games are optional. Of the diversions I just listed in Spider-Man 2, only the graffiti game is a side-quest (it's also one of the best I've seen). The rest are built straight into the main story and impossible to skip.
To be totally clear, there's nothing wrong with mini-games, but I'm pretty sure that's not what anyone is looking for when it comes to Spider-Man 2. The previous game won fans and critics over with its addicting web-swinging mechanic, fluid combat system, and entertaining narrative. To be fair, those things are all still here, but aside from adding in some very fun, new features that let you play as Venom, it kind of feels like Insomniac tried to improve the core game, came up short, and pivoted to annoying mini-games instead. (Side note: Insomniac definitely needs to make a full-fledged Venom game at some point in the future.)
If there's one thing Spider-Man 2 proves, it's that the core concept still works. But another takeaway is that there probably shouldn't be a Spider-Man 3. At least not until Insomniac and Sony can figure out something else to do with everyone's favorite web-slinger that doesn't include a bee-rescue simulator you can't avoid.
Marvel's Spider-Man 2 is available for PS5.