Spider-Man 2 Easter Egg Could Hint at Insomniac's Next Superhero Adaption
Hell's Kitchen might have a new hero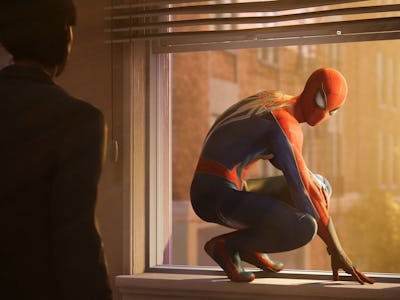 Sony
Insomniac's Spider-Man series has a fresh take on Marvel's legendary superhero, with Spider-Man 2 adding in a wealth of iconic characters like Venom, Kraven, Wraith, and more. Of course, the Insomniac-verse is set to expand even more with the studio's next game, Marvel's Wolverine. And a new Easter Egg found in Spider-Man 2 might hint at yet another iconic Marvel hero the studio wants to tackle, giving its version of New York even more Defenders.
Twitter user @CabooseEK posted a video they'd been sent by multiple fans, showing off a secret room discovered in a back alley of Spider-Man 2's New York. As you can see in the video, it's a tiny room with a few candles and not many details, except for one particularly interesting element — the insignia of the villainous organization The Hand.
For decades, The Hand has been a major organization in the Marvel universe, typically serving as the primary antagonist for Daredevil, but also often facing off against Elektra and Wolverine. Considering we still don't know much about Insomniac's Wolverine game, it seems likely The Hand could be playing a central role.
But it goes deeper than that. Fans also noticed that the Nelson & Murdock building in Spider-Man 2 has had its plaque mysteriously removed. This is, of course, where Matt Murdock (Daredevil) practices law, and when IGN asked game director Brian Intihar about this, his response was simply "stay tuned."
This could suggest that Daredevil is set to make an appearance in the Insomniac-verse, but we don't know how exactly that may manifest. If Wolverine really is up against The Hand, we could see Daredevil first appear in that game. Or, a future Spider-Man 2 DLC might introduce the devil from Hell's Kitchen.
During Spider-Man 2's main campaign, there are a series of side quests called "Unidentified Targets," where Peter and Miles investigate a shadowy figure that Kraven's Hunters are trying to find. This side quest culminates with discovering the apartment of The Chameleon, a longtime Spider-Man villain who can disguise himself as other people. Coincidentally, The Chameleon has also run into Daredevil in the past, particularly in Daredevil #134 in 1976.
The Chameleon already seemed like a prime choice for Spider-Man 2's DLC, but a story revolving around the villain could also easily introduce Daredevil into the mix. This is especially true considering the end of Spider-Man 2, and how Miles looks to be the only active crime-fighting Spider-Man.
To add an extra wrinkle, this week — amidst all these easter eggs being found — an anonymous developer uploaded a prototype of a canceled 2004 game called Daredevil: The Man Without Fear. The title was in development for PS2, Xbox, and PC, and you can play the entire prototype now. While this could, of course, be a coincidence, the timing is incredibly strange nonetheless.
Putting everything aside, The Hand could be utilized as the villain that unites all of Insomniac's projects. During a recent Kinda Funny interview, Intihar confirmed that Wolverine takes place in the same universe as the studio's Spider-Man games, Earth-1048.
At this point, it's practically confirmed Daredevil will appear in some way. But we could also be seeing hints of a larger Marvel video game universe.
Marvel's Spider-Man 2 is currently available on PS5.