Scarlet Nexus Just Got a Massive PlayStation Store Discount
Don't forget to listen to that sweet, sweet opening.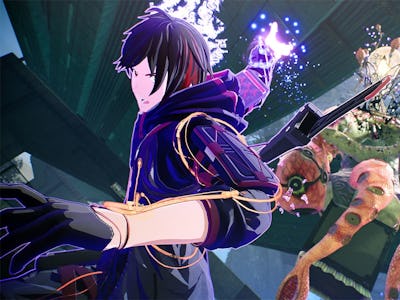 Bandai Namco
The PlayStation Essential Picks sale highlights hits that range from the latest releases to those from two years ago —like Scarlet Nexus. Bandai Namco's anime-inspired action RPG stars adolescent soldiers in a futuristic world run by psychic powers. It earned a 2021 Game Awards nomination for the Best Role Playing Game category, something especially fitting because of its stellar combat and world-building. There's a reason why Bandai Namco's development team called it "brain punk." It's not quite cyberpunk, but something new. Here's why you should buy it while it's only $20.
Scarlet Nexus passed my adrenaline test with its cinematic, action-packed prologue. My blood pumped as I slammed inanimate objects into Silent Hill-esque monsters, even in tutorial mode.
The two protagonists, Yuito Sumeragi and Kasane Randall, are both in the middle of their final exams to become official members of the Others Suppression Force (OSF), the police force for the city of New Himuka. Their seemingly average lives then flip into a thrilling mystery surrounding their respective pasts, the New Himuka govérnment, and the truth behind Others, the monsters that the OSF are tasked with defeating.
Dismembering Others is one of the best parts of the game. You can swap between numerous combos and teammate abilities to overpower your enemy. It feels like an accomplishment when you time a hit just right or hit a weakness that leads into an over-the-top action sequence. For example, nailing a combo might lead into a gruesome spectacle like pulling an enemy's lightbulb-shaped brain out from its body. The visual and sound design — and even controller rumble if you have it on — only enhances the experience.
Scarlet Nexus' story is more of a mixed bag. The premise and setting are interesting, some moments land better than others. These quibbles have little to do with the advanced technology or sci-fi fantasy monsters, mind you. I'm talking about character interactions — too much of the main story and Bond Episodes hinge on your ability to accept absurdity without question. There are two routes to play through, and neither have been able to change my mind about this.
Each path reveals key information hidden in the other, and the protagonists' different fighting styles and skill trees help an alternate playthrough feel fresh. Yuito fits the classic shounen trope, with his hardworking, optimistic attitude and willingness to see the good in others. Kasane leans closer to the cool ace type, a skilled fighter who has problems connecting with others.
If you're interested in buying Scarlet Nexus for PlayStation, we recommend one of these two options:
There's a Standard Edition, but it's not on sale. You would be paying twice the money for less content! Note: If you already have a PlayStation Plus Extra subscription, you should already be able to play Scarlet Nexus without buying the game.
The Deluxe Edition is the cheapest version you can get on sale right now for $20. This edition comes with the official soundtrack and artbook, and red outfit variations for all the playable characters. If you just want the game for as cheap as possible and don't care about additional content, this is your best bet.
The Ultimate Edition adds even more content with the Season Pass, which includes additional Bond Episodes. This edition might be of more interest for someone who's already a fan, perhaps from already playing the game or watching the Scarlet Nexus anime.
Scarlet Nexus is available for PC, PlayStation 4, PlayStation 5, Xbox One, and Xbox Series X|S.