Red Dead Redemption Could Come to Switch, With a Major Catch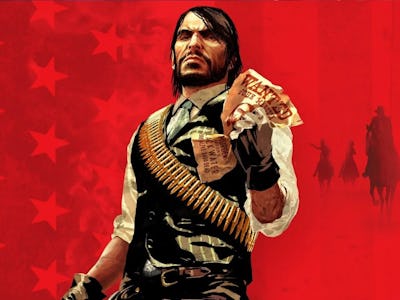 Rockstar Games
It seems increasingly likely that Red Dead Redemption will return in some capacity, either as a remake or remaster for modern consoles. Earlier this summer, a new classification for the game appeared on a Korean rating site, along with numerous reports and leaks — all pointing to the return of Rockstar's classic Western.
But thus far, it's unclear if this new version of Red Dead Redemption will be a full remake or a far less complex remaster (in the vein of the GTA Trilogy from 2021). However, a recent leak from a Rockstar insider indicates that this new game could come to Nintendo Switch, which makes it less likely to be a top-down remake.
Insider Tez2 recently tweeted about a Rockstar website update, which featured a new logo for Red Dead Redemption. Shortly thereafter, Tez2 followed up with an additional tweet, noting that a new set of platform options — including one for Nintendo Switch — has appeared in the code for the Red Dead Redemption site. This not only points to a site overhaul, but also seems to indicate the game may come to Switch.
As noted by Tez2, this doesn't outright confirm a Switch version of Red Dead Redemption. But it's certainly noteworthy and peculiar, especially given the timing of the recent Korean rating mentioned above. "I'm simply showcasing the PS3, Xbox One, and Switch buttons," Tez2 said. "Which are likely meant for the new RDR1 version/remaster."
Assuming the game is coming to Switch, it would be highly unlikely that this version of Red Dead Redemption is a remake. This is due to the handheld hybrid's low power, which struggles to run even first-party Nintendo games like Pokémon. The Switch is over six years old at this point, so it's understandable that its games have started to feel outdated.
While it's possible that a separate remake may be in development for PC and consoles, with a Red Dead Redemption remaster or port planned for Switch, it's unlikely. Instead, Rockstar will probably mirror the GTA Trilogy Definitive Edition, releasing an enhanced remaster of Red Dead Redemption across all platforms.
The only other argument for a remake instead of a remaster is if the game is a cloud version on Switch. This would allow the game to theoretically look, run, and play at high fidelity like its console counterparts, without being held back by the system's low processing power. But, again, since Rockstar has no history of releasing cloud games on Switch, and since the company wants to reach a wide audience, it's much more likely this game is a remaster. Cloud games are inherently restrictive due to their internet limitations.
With that in mind, we shouldn't expect to see monumental changes to the Red Dead Redemption remaster, even on PC, PS5, and Xbox Series X|S. It may look and run better than its 2010 counterpart, with better visuals and performance, but it will probably be in line with the GTA Trilogy, which also came to Switch in 2021. This time around, Rockstar will probably be much more conscious of launching the game with so many bugs, which plagued the trilogy across all platforms.
Even without major changes, simply being able to play Red Dead Redemption on modern platforms would be a major win. It's not available natively on any modern hardware, and — aside from backward compatibility on Xbox One — is stranded on PS3 and Xbox 360.