PS5 Handheld Rumors Hint at a Soft Reboot for Sony in 2023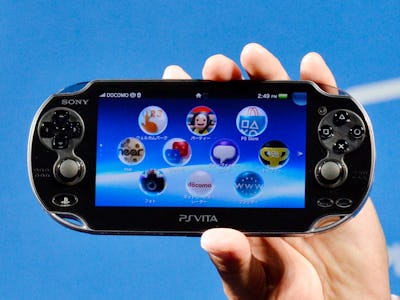 YOSHIKAZU TSUNO/AFP/Getty Images
The PlayStation 5 is going to turn three later this year, if you can believe it. While it may feel like only yesterday when Sony ushered in the next generation of consoles, the PS5 is starting to show its age. New leaks suggest Sony is working on several new projects, including rumors of a PS Vita successor. However, the bigger picture of these leaks shows that Sony is quietly trying to launch a soft reboot for the PS5.
Reports from Insider Gaming, which should be taken with a hefty dose of skepticism, claim that Sony is working on a new handheld codenamed Q Lite. Insider Gaming claims that it would not be a traditional handheld like the Vita or PSP, but rather a device that uses Remote Play with the PS5. While the validity of these reports is questionable, it does speak to a larger plan from Sony to strengthen the PS5 ecosystem with a slew of new accessories that depend on the console itself.
There have been other rumors that Sony is working on more PS5-related accessories, such as PS5 earbuds. These come on top of rumors that Sony is planning on releasing a new model of the PS5 console, including a possible Pro and/or detachable-disc drive models.
All of this comes at a pivotal time in the PS5's lifespan. Historically, in the third year of a console's lifespan, Sony introduces a new model. This was true of the PlayStation 3 Slim, as well as both the PS4 Slim and Pro models. This precedent suggests that Sony would announce a Pro and Slim model of the PS5 sometime this year.
However, the PS5 has not had a traditional lifespan.
Launched in the middle of a global pandemic that led to worldwide chip shortages, the PS5 has occupied an odd space in gaming. While the console has sold well since its initial launch, it took a while to get there due to the long stretch when it was almost impossible to purchase a console. For some, the $500 price point of the disc model also seemed a bit steep in comparison to the Xbox Series X.
This led many PlayStation fans to hold on to their PS4s. This wasn't a bad idea, considering Sony continued to release some of its biggest titles for past-generation consoles. Horizon Forbidden West and God of War Ragnarök, Sony's biggest first Party releases in 2022, both received PS4 releases. A big selling point for consoles is typically exclusive games, but more than two years on, the console still does not have a truly killer exclusive.
That will change in 2023. Big third-party titles like Star Wars Jedi: Survivor only releasing on current-gen consoles, and Final Fantasy XVI will debut exclusively on PS5, making the platform the only place to play one of the year's most anticipated releases.
With the PS5 just beginning to fully come into its own, it does not seem likely that Sony would choose this time to introduce the second wave of models. That is where the myriad of rumors surrounding new accessories come in. By building a larger hardware ecosystem around the PS5 that gives fans more ways to play on and interact with the console itself, Sony achieves a soft reboot of the console. Bringing in new interest and users with exclusive titles and capitalizing on this with new accessories, like the rumored Q Lite handheld.
While the rumors of a new handheld are just that, viewed in tandem with the list of exciting titles releasing on the console this year, Sony seems ready to capitalize on the PS5's importance in 2023.