How PlayStation Won the Console Wars in 2013
Xbox never stood a chance.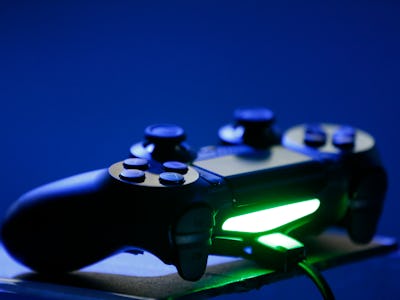 Bloomberg/Bloomberg/Getty Images
In the summer of 2014, Sony published a very strange video to YouTube. The 20-second clip features two PlayStation executives standing awkwardly in a dark room while holding a copy of the forgettable video game Killzone: Shadowfall.
"This is how you share your games on PS4," says gaming industry legend Shuhei Yoshida while mean-mugging the camera. He then hands Killzone to game developer-turned-executive Adam Boyes, who also stares straight into the camera and shouts, "Thanks!"
Out of context, this might be the weirdest piece of video game marketing ever created (and that's saying a lot), but if you were following along with the console wars of 2014, Sony's video was actually a brutal takedown of its biggest competitor just months before the PlayStation 4 launched in direct opposition to Microsoft's Xbox One.
From the vantage point of 2023, you might assume the PS4, which hit stores on November 15, 2013, was always a shoo-in. The Sony console handily won the battle and solidified PlayStation as the dominant console brand, but in 2013, that was far from a foregone conclusion.
Sony infamously kneecapped the PS3 with an astronomical $599.99 price tag (for that price, you could buy an Xbox One and a Nintendo Wii). The console was also notoriously difficult to develop games for due to Sony's proprietary processor technology, which third-party studios needed to quickly pivot to. After a rocky start, the PS3 eventually caught up with the Xbox 360, surpassing it in sales in 2016 (yep, four years after the PS4 had already launched) thanks to a string of critically acclaimed exclusive franchises like Uncharted, The Last of Us, and Infamous.
So when it was time to unleash the PS4, Sony wasn't taking any chances. When the new console made its debut at E3 2013 it came with a much more reasonable price tag of $399.99. The company also upgraded its own processor, making it way easier for third-party developers to create games for the PS4.
Meanwhile, Microsoft seemingly learned all the wrong lessons from its victory with the Xbox 360. For one thing, the Xbox One launched for $499.99, but the console's biggest mistake was a complicated game-ownership system seemingly designed to torture gamers. Basically, players would only be allowed to play games offline for 24 hours before having to "check-in" again with an online connection. Even worse, Microsoft created rules around how you could share physical games with a friend: each game could only be gifted once, and only if the person receiving it had been on your "friends list" for at least 30 days. In other words, the days of loaning your buddy your copy of a new game once you beat it were over.
Enter, Sony's clever marketing team.
The company saw the opportunity to strike, and it didn't hold back. First, Sony announced that the PS4 would cost $100 less than the Xbox One. Then, it revealed that PS4 players would have true ownership over their games.
"We won't impose any restrictions on used games," Sony CEO Jack Tretton said at the time. "It won't require you to check in online. It won't stop working if you haven't authenticated within 24 hours."
Tretton didn't need to mention Xbox, everyone knew what he was referring to.
Microsoft eventually walked back those controversial policies, but the damage was done. The PS4 squashed the Xbox One in sales thanks to some clever marketing — and some of the best first-party games around. Microsoft did eventually catch up on exclusives thanks to an impressive buying spree, though Sony still has an edge when it comes to quality (if not quantity).
But there's no denying that the PS4 was the winning console of its generation — until the Switch arrived.