The Queen of Twitch Speaks Out
Pokimane on social media burnout, the struggles of being a female influencer, and cookies.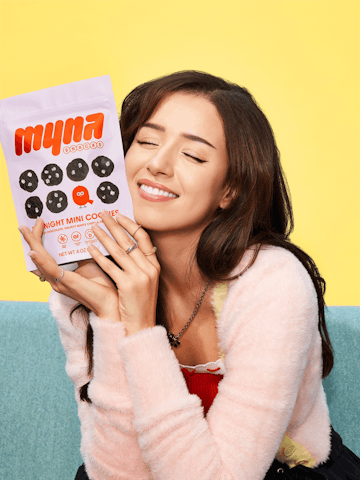 c/o Pokimane
Pokimane wants to become a household brand.
Imane Anys, who goes by Pokimane on across the internet, rose to fame playing trending games like League of Legends and Fortnite on Twitch for an audience of over 9 million followers and counting. Now, she tells Inverse she's making her "biggest" career move yet: cookies.
"It's something that's missing in a certain market," Anys says.
Internet influencers hawking their own food products is nothing new. Mr. Beast sells burgers, Emma Chamberlain has her coffee label, and Twitch streamer Amouranth's infamous beer is brewed using her own vaginal yeast. (When I bring up the beer, Anys replies bluntly, "Oh god.") And now, there's Myna Snacks, a new venture from Pokimane.
What sets Pokimane's Myna Snacks apart, she says, is their nutritional value. Her new line of chocolate "Midnight Cookies" are made with gluten-free almond, cassava, coconut flour, palm oil, white chips, coconut sugar, and mushroom extract, among other trendy ingredients.
Lisa Young, NYU adjunct professor of nutrition and a registered dietitian, tells Inverse that Pokimane's cookies seemed harmless enough, in small doses.
"Eating a cookie is fine," says Young. "Eating a batch of cookies – just because they have mushroom powder and better for you ingredients – it's still not the most nutrient dense. It's not like eating fruits and vegetables."
Myna Snacks co-founder and former Kellogg executive Darcey Macken tells Inverse that the cookies are "meant to serve as a small boost in someone's diet," adding that one serving contains 15 percent of your daily value of Vitamin D. "A balanced diet is key for those consuming our cookies."
Following in the path of 'self-made' female billionaires like Kim Kardashian and Rihanna, Pokimane could, in theory, get her hordes of fans to spend money on clothes or beauty products. But part of flourishing in this space is about understanding the audience. No one understands this better than the Queen of Twitch herself.
When I ask if she'd consider launching skincare products, like Valkyrae's now-defunct blue-light skincare line, or buying up an esports team like Offline TV co-founder Disguised Toast, Pokimane responds with caution.
"My goal is not to launch as many products as I can or make as much money as I can," she says. "It's really about being super intentional with what I bring to market, not just because something might sell with my name behind it, but because I think the product is that great. Maybe in five years, I'll think of something else."
"Maybe in five years, I'll think of something else."
Not long after the cookies were first announced, some social media users pointed out that Costco sells a similar product at a fraction of the price, going so far as to accuse Pokimane of scamming her fans.
But Anys isn't interested in defending herself or her cookies.
"I try to do my due diligence to the fullest extent because I know that there will always be people ready to pick something apart, and I want to be able to promote it and stand up for it and have answers to everybody's questions," she says. "Of course, at the end of the day, there are certain things that are going to be outside of my control. If someone doesn't like it, that's their opinion, but I just aim to make the best thing that most reasonable people will hopefully adore."
In a statement to Dexerto, a Myna Snacks spokesperson defended the product, saying, "Our product formulation is unique to Myna and exclusive to us. We can confirm the Midnight Mini Cookies were in development for two years. This process included many rounds of testing and ingredient changes."
The Costco cookies notably don't contain mushroom powder, an ingredient featured in Myna cookies aimed at gamers who may not leave the house enough to get enough sunlight. Nutritionists tell Inverse that consuming mushroom powder should not be a substitute for going outside and that the calories from flour and sugar consumed alongside the powder would still add up.
Burning Out on Twitch
There's a growing consensus that social media as we know it is starting to fail us. Platforms are either falling apart (like Twitter-turned-X) or transforming into dopamine-powered marketing machines (like Facebook and Instagram). Last month, Wired wrote that the first generation of social media users have nowhere left to go and might be ready to part ways with these apps entirely. It's becoming increasingly clear that human interactions were not meant to be boiled down to farming likes and social media clout.
For someone like Pokimane, whose entire life seemingly exists to be consumed as online content, this feels painfully accurate.
"It can be difficult to balance when it's also not just a fun hobby of yours, but it's quite literally your full-time job," she says.
"I don't think Kick is the platform for me."
Anys has been streaming since 2013 (back when Twitch was still called Justin.tv). In September, she announced plans to pull back from streaming for personal reasons. But while other top Twitch streamers like Amouranth and xQc have announced pivots to Kick, a rising yet controversial platform currently throwing hundreds of millions of dollars at creators, Pokimane has been adamant about staying put.
"I don't think Kick is the platform for me," Anys says, adding that she's seen other younger streamers' more extreme negative reactions to the platform and is supportive of how outspoken they are.
Pokimane is still gaming, though. She drew headlines recently for playing World of Warcraft on Twitch, bringing some extra attention to the decades-old game. But lately, she is aiming for a wider audience and looking to explore non-gaming topics, although she recognizes the advantages of Twitch over other platforms like TikTok and Instagram.
"Twitch is obviously much better for reaching gamers or people who want to watch a piece of content for five-plus hours," Anys said.
Pokimane is also launching her own podcast later this month called Don't Tell Anyone, where she's promising to be vulnerable on a variety of topics. While she was cagey about sharing any details, Anys says she'll discuss non-gaming and social issues on her podcast and publish it outside of Twitch. She's aiming to release the first episode on November 28.
"I felt a need to both explore other avenues and kind of just try new things," Anys says, "And also just personally, I wanted time to explore myself and evolve as a person."
Streaming While Female
Within the streaming space, female Twitch streamers have reported receiving more threats than their male counterparts. For Anys, the best solution has simply been the support of her fellow streamers.
"That's what's helped me the most," she says. "Being able to talk to my female streamer friends and have them validate my problems, telling me that they've dealt with similar things and reassuring each other that it's not like there's something wrong with us and that's why we're being treated this way. A lot of it is circumstantial. It's the industry. Ultimately, it's not our fault that we're being treated that way."
During Twitchcon in October, Inverse spoke to several female streamers, including Morgan, who goes by Frogan on Twitch, Caroline Kwan, and Denims, who declined to publish her real name, citing safety concerns, among others, about their experiences on the platform. One common theme was how the three of them dealt with online harassment. Some mentioned Pokimane as a role model and said Anys often deals with unfair criticism for being a woman.
"The level of hate that she gets is just unconscionable," Denims tells Inverse. "She doesn't even come close to deserving that hate and it doesn't matter what she says. There's always someone ready to respond."
"The level of hate that she gets is just unconscionable."
Female Twitch streamers also face their share of threats to their lives and often get bombarded with critical messages. Pokimane is no exception, and she's faced plenty of harassment both on and offline.
"Sometimes, that can be directly correlated to how much I'm streaming and how much I'm putting myself out there," she says. "But ultimately no one deserves those kinds of issues. It's unfortunate that, frankly, for most female streamers, it's something that they have to be considerate about."
Anys tells Inverse she tries to live in safe buildings and apartment complexes, but says she may need to take things into her own hands by releasing resources to help other women in similar situations.
"The internet's just been around too long for us to still be having problems like these and feel like no one can really help us."
Update 11/17: Additional details about the health benefits of Myna Snacks cookies have been added, including a quote from co-founder Darcey Macken.