Get friendly with these 3 confidants right away in Persona 5 Royal
Spending time with these guys early on will make things way easier.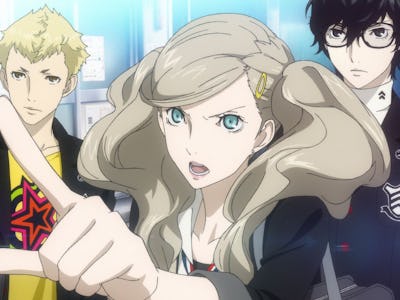 In Persona 5 Royal, time is always of the essence. You're either worried about a looming clock for finishing a Palace or making all the wrong moves in your activities. Eventually, you'll need to spend time with your friends and forge bonds that will "last a lifetime." But who do you talk to? Who's worthy of a moment with you? Should you hang out with everyone at once? There are three folks that you need to spend every waking moment you can with. If you can level these guys up, it'll up your abilities immensely.
Before we get into the weeds, make sure when you plan to spend time with a confidant, you take a persona that matches their arcana with you. This will increase how much your bond increases from a single hang, giving you more bond EXP in less time.
Takuto Maruki (Councillor Arcana)
Unlock date: 5/13
Location: Practice Building floor on Monday and Friday
Earliest available Councilor Persona: Kusi Mitama, level 12
After dealing with Kamoshida, Shujin Academy's school board understandably decides the student body might've taken some mental damage from the ordeal. To remedy the situation, they hire Takuto Maruki as the new student councillor. This one of the fantastic new additions made in Persona 5 Royal. Within moments of first conversing with Maryuki, he becomes one of the best confidants to develop.
Within the first three levels of your bond with Maruki, he'll give you Detox X, an ability that might cure you of any ailment upon being afflicted. You'll unlock Flow, giving you a chance to gain an attack boost when any battle begins. That's just the beginning. Every interaction will also slightly boost your SP. By bonding with Maruki, you can put any battle in your favor.
Tae Takemi (Death Arcana)
Unlock date: 4/18
Location: Yongen Jaya Clinic during the day, all days.
Earliest available Death persona: Mandrake, level 3
Right out the gate from starting the game, you'll be able to do clinical trials for Tae Takemi, the disgraced sullen general practitioner. She'll endearingly call you her guinea pig as she tests out her latest medicine on you.
Meeting with her will increase your guts, but more importantly, she'll give you access to the cheapest, most effective medicine around. Later in her confidant, her inventory becomes exceptionally more useful as she expands on the number of revival items available. Befriending Takemi will make preparation for any palace a cinch.
Toranosuke Yoshida (Sun Arcana)
Unlock date: Speak to him in Shibuya Square on May 6. After that, apply to work in Shibuya's beef bowl shop by picking up a pamphlet found in the Underground Walkway. After working two shifts, Yoshida will commend you during your shift, unlocking the confidant.
Location: Shibuya Square on Sunday nights
Earliest available Sun persona: Suzaku, level 16
After disgracing himself 20 years ago, Yoshida has become a local soapbox politician, but he's still got the rhetoric of the most veteran statesman around. By bonding with Yoshida, you can pick up the essential tools to convince shadows to perform the wildest acts. After your second encounter, you'll unlock Diplomacy, the ability to obtain more money and items when talking to weakened shadows. By your 8th encounter, you'll be able to convince Persona to join your cause by just knocking them down.
Befriending Yoshida alleviates many major headaches. He's perhaps the best confidant in the game and you can get him within the first month of playing.
Persona 5 Royal is currently available for PS4.