Overwatch 2's New Hero Lifeweaver Is About to Revitalize the Support Meta
Everything we know so far.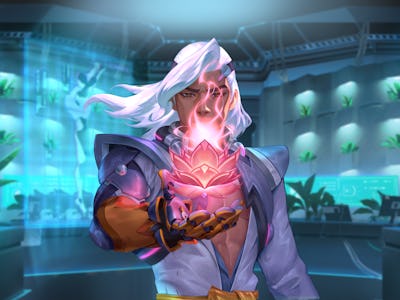 Activision Blizzard
Overwatch 2 is meant to reinvent its predecessor, and Lifeweaver is a continuation of that goal. Activision Blizzard's latest support hero marks many firsts for the game, including its first Thai and openly pansexual hero. He's more than just a step forward in representation, though. His long-range healing abilities meaningfully add to the ever-expanding roster, offering an alternative to the already-existing heroes that players might've not thought they needed. Lifeweaver isn't just pretty to look at, but a force to be reckoned with as an ally or enemy.
Here's what we know so far about Lifeweaver and his debut in Overwatch 2.
When Is the Overwatch 2 Lifeweaver Release Date?
Lifeweaver will join Overwatch 2 when Season 4 launches on April 11, 2023. It's also coincidentally the same week as the Thai New Year, which runs between April 13 and 15 this year.
You can unlock Lifeweaver like any other new Overwatch 2 hero. Either buy the Overwatch 2 Premium Battle Pass with Overwatch Coins or grind to Tier 45 in the free version. It's your choice.
Who Is the Overwatch 2 Lifeweaver Voice Actor?
Lifeweaver is voiced by 19-year-old Thai actor Phuwin Tangsakyuen, who is perhaps best known for playing Pi Pattawee in Fish Upon the Sky, a Thai comedy boys' love series from 2021.
What Are Lifeweaver's Abilities in Overwatch 2?
Lifeweaver excels as a long-ranged healer that takes inspiration from already-existing cast members like Moira. Developers ended up with Lifeweaver after conceiving the idea of a person that draws healing energy from plants. Thus, the invention of "biolight," the source of Lifeweaver's powers. His character design heavily takes inspiration from mandala flowers, as seen in his Petal Platform, Tree of Life, and other pink, flower-shaped abilities.
These are his main abilities, which developers have explained in detail in trailers and blogs:
Healing Blossom — Heals allies with luminescent blossoms. The longer you charge the blossom, the more healing it provides. Similar to Brigitte's Armor Packs.
Thorn Volley — Fires biolight thorns at enemies. Meant to be used as a defense but can deal "decent damage." Can't heal allies while using Thorn Volley.
Petal Platform — Throws pod that blooms into a flower-like platform upon landing. Both allies and enemies can use the platform to launch themselves into the air. Not as tall as Baptiste's Exo Boots.
Rejuvenating Dash — Heals Lifeweaver while dashing in your direction of choice. Similar to Hanzo's dash.
Life Grip — Covers ally in protective biolight and pulls them to your position. Ally will be invulnerable to damage within the Life Grip. Can't interrupt ulting ally with Life Grip.
Ultimate: Tree of Life — Lifeweaver plants large biolight tree that covers and heals allies within its AoE. Can't shoot, be shot, or pass through it. "Healing Bob meets Mei's Ice Wall."
What Is Lifeweaver's Story in Overwatch 2?
Lifeweaver, also known as Niran Pruksamanee, grew up attending botanical festivals and mending plants alongside his wealthy family's gardeners. His parents sent him to the prestigious Vishkar Architech Academy after the compound's gardens became "too small for him," where he met fellow Overwatch character Symmetra.
Lifeweaver then had a Siddhartha-like experience where he realized that the world was filled with suffering. He then started researching ways he could help, eventually inventing biolight technology, which could heal the injured in seconds. However, Vishkar prevented Lifeweaver from freely distributing the technology, claiming that it belonged to the academy because it was created using their property and resources. So Lifeweaver fled with his prototype research and Vishkar set a hefty bounty on his head. Now, Lifeweaver lives a freer life where he is developing biolight technology for his own goals in hopes of bettering the world.