Everything You Need to Know About Call of Duty: Modern Warfare III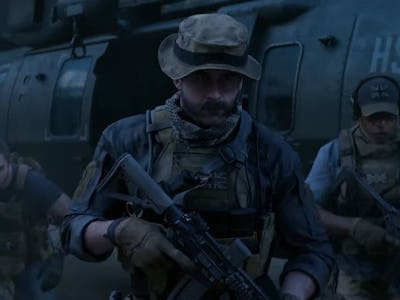 Activision Blizzard
It's November. The leaves are falling, Christmas music is creeping in, mustachioed men are no-nutting, and a new Call of Duty is upon us. The perennial FPS franchise returns with Call of Duty: Modern Warfare 3 from Sledgehammer Games. As with every entry, the broad strokes remain the same — impeccably balanced shooting mechanics, a plethora of maps, granular weapon modifications — but a host of smaller changes make this year's entry just unique enough that we prepped this handy primer for you detailing all the important things you need to know before you dolphin-dive into the action.
Meet the New Big Bad, Same as the Old Big Bad
This year's installment is a direct sequel to last year's Call of Duty: Modern Warfare II. MW2 followed two groups of special ops soldiers, Task Force 141, which is full of familiar faces like Price, Ghost, and Gaz, and the Mexican unit Los Vaqueros led by Alejandro Vargas. Its mission was to stop a terrorist cell that came into possession of some American-made ballistic missiles, culminating in a near-miss event in Chicago where one was shot down before it could reach the Pentagon.
This means returning players should remember the big reveal that Vladimir Makarov is back, a name likely familiar even to fans who haven't played in years. Makarov is one of the series' most popular villains and was the man behind the controversial No Russian mission in the 2009 version of Modern Warfare 2, which tasked players with gunning down civilians at an airport. A mid-credits scene in last year's MW2 references this infamous moment with a group of terrorists on a plane receiving a go-ahead text from Makarov with the grim reminder "No Russian."
A Whole New Open World
This year's 15-mission campaign takes a different approach by bolstering the more traditional linear level design players are used to with several open maps that encourage creative problem-solving (see: stealth) to achieve objectives. Players should come in with low expectations, however. This year's campaign has been panned as one of the worst in years. Apparently, the open-world format is more hit than miss, though your mileage may vary depending on your playstyle and whether you're in the 1 percent of the population only interested in a single-player experience from what is arguably the greatest multiplayer franchise in gaming history.
Throwback Maps
Makarov isn't the only returning feature from 2009's MW2. This year's multiplayer maps are remastered versions of the ones from that entry. High Rise, Rust, Underpass, and others. are back with some new features and gameplay modes to up the intensity. There are also 12 new core maps for 6v6 modes, three new ones for Ground War, and one really, really, really big map for the return of War Mode. There's also an objective-based mode familiar to fans who played Call of Duty: World War II. Perhaps the most consequential map for players isn't a gameplay map at all, it's the return of the minimap on the multiplayer HUD. Red dots are back, baby! And so is map voting, which will give players some agency over the experience, too.
New Life for the Living Dead
Zombies have come to the Modern Warfare series! But MW3 is doing things a little differently than the Zombie mode fans are used to from the Black Ops games. This isn't a round-based mode with waves of enemies to mow down. Instead, this year's Zombies feature is an extraction, based game on the new Urzikstan map. You can play solo or in a three-man squad, and up to eight squads can compete on one map. It will also include some familiar features from previous entries, so expect to see the mystery box, perk machines, and more.
The Reason for the Season
If you're looking to play an obsessive amount of multiplayer, this year's installment is ready to serve up plenty of challenges to keep you busy while you wait for Season 1 to kick off "in early December." There will be nine daily and 14 weekly challenges to keep you busy during the pre-season as you climb your way up to the level 55 cap. Then there are the weapon ranks you can chase for the more than 30 different guns in the game. In addition to the usual unlockables along the way, MW3 will introduce "aftermarket parts" for weapons once you hit the max level, which will transform the way they play. Oh, and all the cool shit you earned in Modern Warfare II will carry over, too.
Perk a Set
This year, perks are tied to the wearable gear you pick for your loadout. This won't have any cosmetic effect, but mixing and matching between the different vests, boots, and gloves will help you refine your playstyle and focus on whatever it is you do best or to make tactical decisions to fill a role in objective-focused games. It can be a little overwhelming, but a de facto "Create-a-Class" feature will let you save up to 10 different customized loadouts to keep everything organized. H4:
Call of Duty: Modern Warfare III is available on Xbox, PlayStation, and PC.