Matthew Mercer Brought His Own "Flavor" to Tears of the Kingdom's Ganon
Yep, even he likes to torture Koroks.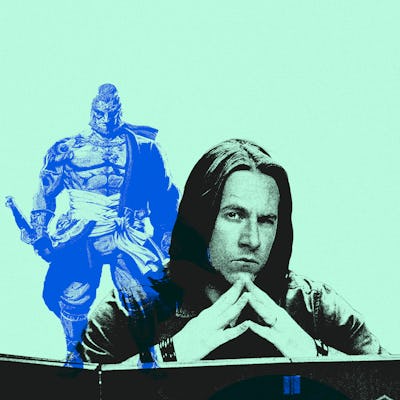 Dewey Saunders/Inverse, Nintendo, Getty Images
Even if you don't know Matthew Mercer's face, you know his voice.
Over the last two decades, Mercer has solidified himself as one of the leading talents in voice acting, playing iconic roles like Levi in Attack on Titan, Chrom in Fire Emblem, and Cole Cassidy in Overwatch. Beyond his extensive acting resume, Mercer is also the co-founder and Game Master of the smash-hit web series Critical Role, where voice actors come together to play Dungeons and Dragons. Since 2015, the show has been instrumental in the resurgence of D&D, garnered a massive community, and even spread into comic books and TV.
Most recently, Mercer took on the role of the iconic villain Ganon in The Legend of Zelda: Tears of the Kingdom. (Playing the baddie has been a longstanding dream of Mercer's — he first took up the role in a 2009 live-action web series called There Will Be Brawl.) Tears marks the first time that Ganon has voiced dialogue, and living up to the imaginations of millions of players over the series' 37-year history was no small undertaking.
"I wanted to bring both that dark, powerful confidence that he exudes throughout his appearances in the series, as well as elements of his silver tongue that have allowed him to make the moves he has to gain what he wants," Mercer tells Inverse.
Mercer's rendition of Ganon is nuanced and complex. He's intimidating as hell, sure, but there's a subtle undercurrent of cunning and confidence to the character in Tears that feels far more refined than previous portrayals.
"He is a brutish tyrant who also sees himself as the rightful ruler of all, and there is a regality in how he sees himself that I wanted to simmer beneath his deadly intent," Mercer says. "Both taking inspiration from the Japanese performances that have shaped how I have always interpreted him, and wanting to bring a little of my own flavor to him, I hoped to bring him to life in a unique way."
Playing the lead antagonist of one of gaming's most influential and beloved franchises encapsulates just how far Mercer has come since his early days. (One of his first voice acting roles was as Scaler, a weird little lizard dude in a 2004 PS2 platformer of the same name.) But the bane of Hyrule isn't Mercer's favorite role. That honor belongs to another video-game icon: the zombie-blasting, boulder-punching Leon Kennedy of Capcom's Resident Evil series.
"One role that really began to change my career, given both the visibility of the franchise and the love I had for the role, was Leon Kennedy in Resident Evil 6," says Mercer. "After that, I would say McCree/Cassidy of Overwatch was another big moment in my career, where I was part of something momentous with a character I got to originate with gusto."
Iconic characters like Ganon and Leon are bound to be played by a variety of actors over time, leading to different interpretations. Despite playing Leon in Resident Evil 6 and subsequent animated films, Mercer is completely on board with the direction the character has taken with Nick Apostolides in the RE2 and RE4 remakes.
"Recasting roles is a reality in the industry for a multitude of reasons, and most voice actors accept that possibility with as much understanding as we can. Sometimes its budget, other times its Union status. Sometimes it's a new creative vision for a character, and it warrants a new voice," Mercer says. "I have been replaced and I HAVE replaced."
Just like the rest of the entertainment industry, voice acting is facing a wealth of challenges, including the rise of AI. Mercer doesn't see the technology putting him and his peers out of work anytime soon, but he does have understandable concerns about the potential for harmful imitations.
"While I am less worried about it replacing real, breathing performers who bring authenticity, nuance, and vibrancy to a character's performance, I do greatly worry about the misuse of our voices to represent ideals we don't agree with, or speaking on hateful things," he says.
Mercer stresses that creators need to lead by example in order to foster positivity and inclusion place, and he hopes that Critical Role can continue to be a kind of guiding light in that respect.
"Use your platform in healthy, uplifting, and constructive ways without falling to the ills of toxic positivity. Invite people to engage in the space from all backgrounds and preach both social and financial support to the many wonderful creators within the community around you," he says. "It's certainly not easy, especially given the state of social media these days, but it helps to know that the silent majority that follows you and your work is also silently carrying on your example of lifting each other up."
Critical Role has a lot of irons in the fire right now — a sci-fi podcast series called Midst, a new horror drama campaign called Candela Obscura, and even an upcoming official cookbook. As for the future, Mercer doesn't currently see an end in sight for Critical Role. But he does hope that what he's done can live on and inspire other creators.
"The goal is for Critical Role to live on beyond just us. To continue to harbor and invite new storytellers and creators, and drive a wonderful community to make real change in the world around them in ways they might have never thought possible," Mercer explains. "What I can hope for is a means of passing the reins on to the next generation of strong hearts to continue bringing joy and inspiration into the corners of the world that we can, and help lift them up until I'm too old to lift much of anything.
It's hard to imagine Mercer having much time for anything else. But like the rest of the gaming world, he's been digging into Tears of the Kingdom.
"I am quite proud of my multiple Korok 'delivery service' builds that involve Zonai mopeds and trebuchets. I also made a multi-rocket ejection device, should I find myself fed up with the height of their friend's location," he says.