Everything we know about Mass Effect Legendary Edition
I'm Commander Shepard, and this is my favorite codex on the Citadel.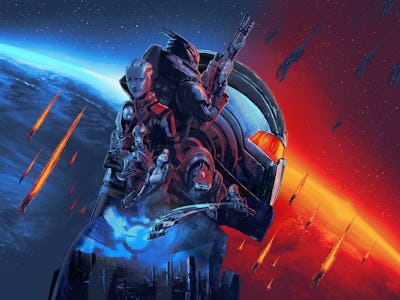 Mass Effect is one of the all-time greatest sci-fi video game series ever, and at long last, the original trilogy is getting a full-on remaster worthy of next-gen consoles and current PC builds.
Replaying the franchise remains perhaps the strongest argument for keeping a PS3 or Xbox 360 within easy reach. That will soon change when Mass Effect Legendary Edition is released later in 2021. Not only will it come with overhauled graphics, but it'll include all three games and their DLC neatly bundled into one package.
Here's everything we know about Mass Effect Legendary Edition.
How did gaming get you through the pandemic? We want to hear from you! Take this quick Inverse survey.
When is the Mass Effect Legendary Edition release date?
Electronic Arts confirmed on February 2, 2021 that Mass Effect Legendary Edition will be released on May 14, 2021.
Is there a trailer for Mass Effect Legendary Edition?
Yes, there is! A teaser trailer was released on November 7 alongside the trilogy's announcement. It doesn't show much outside of the updated character designs and game's key art, but it confirms the remaster's existence nonetheless.
But EA announced the new release date with a full reveal trailer on February 2, 2021. That trailer — which has a 1:47 runtime — showcases many of the remastered graphics across cinematics, loading screens, and in-game cutscenes. Considering the fact that it includes several iconic moments from the trilogy set to its spectacular score, it's a hype-worthy trailer indeed.
What platforms will Mass Effect Legendary Edition be available on?
According to a BioWare blog post, Mass Effect Legendary Edition will be available for PC, PS4, and Xbox One. This means that next-gen systems won't be getting unique versions of the game that look even better, but the game is backward compatible. That's a bit disappointing considering that it's coming out several months into this current console generation, but we'll at least be able to play the game on our new consoles.
And considering the fact that the game has been remastered for 4K Ultra HD with HDR, base models of the PS4 and Xbox One can't even tap into its full potential. So gamers will need at least an Xbox One X, PS4 Pro, or one of the next-gen consoles to experience this remaster in all its glory.
What's included in Mass Effect Legendary Edition?
The aforementioned BioWare blog post also delves into what players can expect from this remastered trilogy. "Our goal was not to remake or reimagine the original games, but to modernize the experience so that fans and new players can experience the original work in its best possible form," the blog asserted. The developers are also promised 4K resolution for Legendary Edition as well as "faster frame rates." It remains to be seen if the game will hit 60 FPS on all platforms.
The packages will contain thorough remasters of Mass Effect, Mass Effect 2, and Mass Effect 3 that contain better textures, character models, effects, and shaders in addition to all DLC for all 3 games. The Pinnacle Station DLC will be absent, however, due to data corruption.
This collection will exclude the multiplayer experience that was once paired with Mass Effect 3, which makes sense as EA doesn't want to treat this remaster as another live service game.
What changes were made for Mass Effect Legendary Edition?
Read also: Mass Effect 2 endures because it was willing to burn it all down
As mentioned, the biggest changes of the remaster will be to improve textures or other effects that were lacking in the original trilogy — and there will be a whole lot of lens flare. Most of the core gameplay experience will remain the same, but particularly the first Mass Effect game will look vastly improved. Combat will stay consistent between each original game and the remastered version, but there have been some slight quality-of-life improvements to inventory management systems in the first game.
Character creation is also uniform across all three games, including the iconic Female Shepard that was created for Mass Effect 3's marketing.
Project Director Mac Walters even revealed to Metro UK that some of the more problematic camera angles were altered for the remaster as well.
"[Character and environment director] Kevin [Meek] actually called out some camera cuts that were just … why was that focusing on Miranda's butt?" Walters said. "So in some cases we said, 'Okay, we can make a change there.'" Walters indicated that there weren't changes to specific character models, but instead updates to where cameras were angled.
We'll update this post as more information about the remastered trilogy is released.
Mass Effect Legendary Edition will be released for PC, PS4, and Xbox One in spring 2021.
This article was originally published on