How to Redeem Codes in Honkai: Star Rail for Stellar Rewards
Never say no to free money.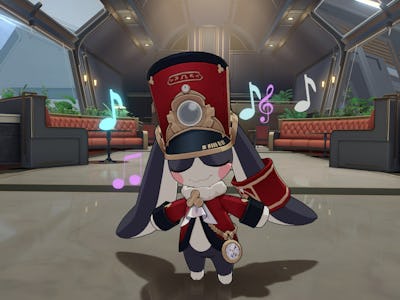 HoYoverse
Honkai: Star Rail kicked off its launch with a generous list of redemption codes. However, if you just downloaded the game straight from the website without looking into anything else, you might not know what they are and where to find them. Redemption codes gift players with free level-up materials, currency, and other valuable items. They typically don't offer much, but the little bit for each code can easily add up. Stellar Jade is especially important for Warps, tickets that let players pull for new characters.
Like Genshin Impact, HoYoverse seems set on offering occasional redemption codes for its players on a regular basis. Some of them look like they're tailored for the game's launch, so they might be time-gated, though. These are all the Honkai: Star Rail codes so far and how to redeem them.
All Honkai: Star Rail Redemption Codes
HSRGRANDOPEN1 - 100 Stellar Jade, 50,000 Credit
HSRGRANDOPEN2 - 100 Stellar Jade, 5 Traveler's Guide
HSRGRANDOPEN3 - 100 Stellar Jade, 4 Refined Aether
HSRVER10XEDLFE - 50 Stellar Jade, 10,000 Credit
STARRAILGIFT - 50 Stellar Jade, 2 Traveler's Guide, 5 Bottled Soda, 10,000 Credit
The HSRGRANDOPEN codes reportedly come from the Chinese Honkai: Star Rail launch day livestream. There, HoYoverse confirmed that the codes would last until April 30, 2023. It's unclear how long the other codes will last, but it's better to claim them now than never.
Don't miss out! The Stellar Jade from these codes alone adds up to at least three Warps.
How to Redeem Honkai: Star Rail Codes
You can claim Honkai: Star Rail codes in one of two ways. If you're already in the game, you can open your dashboard and click the three dots next to your avatar in the upper right corner. The "Redemption Code" option should pop up underneath "Trailblazer Profile" (pictured above). Paste the redemption codes from the article into the text box and wait for the rewards to hit your inbox.
The Honkai: Star Rail gift page can also send the rewards straight to your in-game mail. Log into your account from the upper right corner using your username (or email), and password. Then, go to the Redeem Code section and select your Server. Your character nickname should populate automatically. Plug the codes into the space labeled Redemption Code and click Redeem.
The rewards should be in your inbox the next time you log into Honkai: Star Rail. A little red dot appears on the letter icon in your dashboard whenever you have new mail.
Honkai: Star Rail is available for PC, iOS, and Android.