Hogwarts Legacy Release Date Delay, Early Access, and Preorder Bonuses, Explained
More complicated than a potions exam.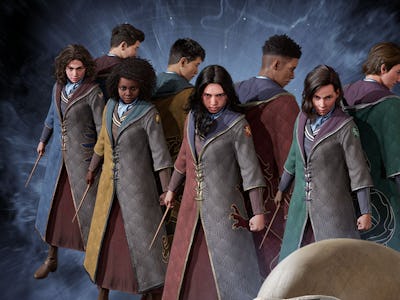 Back-to-school season starts early this year. February marked the launch Hogwarts Legacy. on PC, PlayStation 5, and Xbox Series X|S, and it sold a whopping 12 million copies in the first two weeks alone. The game will be coming to older consoles eventually, but PS4 and Xbox One players will have to wait a little longer than expected.
Essentially, your ability to access the game will depend on your platform, version, and whether or not you choose to preorder. Let's break it down.
Hogwarts Legacy PS4 and Xbox One Release Date
May 5 (Delayed from April 4)
For Potter fans on PS4 and Xbox One, Hogwarts Legacy will be released just shy of three months after the PC / PS5 / Series X|S launch. On March 6, Warner Bros. Games announced the past-gen port would be delayed an additional month, pushing the launch back from April to May.
There is no early access period for the PS4 and Xbox One versions. They will be available in Deluxe ($69.99) and Standard editions ($59.99). This was likely done in response to the disastrous 2020 launch of Cyberpunk 2077, where the ghastly performance of the game on PS4 and Xbox One partly led to the game being temporarily yoinked from Sony's digital storefront.
If you order the PS4 version of the game and later purchase a PS5, you can upgrade to the new-gen version of Hogwarts Legacy for free. (This isn't always the case with some PlayStation launches, so it's worth noting in this instance.)
Hogwarts Legacy Nintendo Switch Release Date
July 25
Womp womp. Despite being the third-best-selling console ever with 118 million units shipped, Nintendo Switch players won't be invited to Hogwarts until spring term is already over. It will also be offered in standard ($59.99) and deluxe editions ($69.99).
This article was originally published on