Genshin Impact Yelan build transforms the archer into a Hydro powerhouse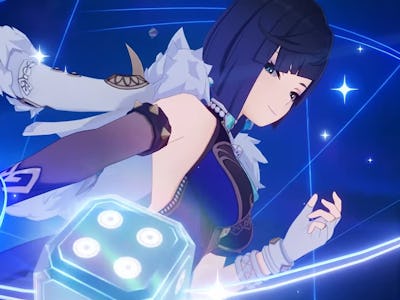 HoYoverse
Talk about making a splash. The Genshin Impact 2.7 update is finally here with long-awaited quests, events, and characters. Yelan, a five-star Hydro archer, has arrived as the main character in the latest Archon quest and in the Spiral Abyss meta. She's a versatile character who can stand on her own or serve as a sub DPS depending on how you build her.
While there are Hydro DPS builds with her at the center, we'll be focusing on her as a Sub DPS. They don't call her a "five-star Xingqiu" for nothing. Here's how to build Yelan from Genshin Impact.
The best Genshin Impact Yelan build
Yelan generally fills the same role as Xingqiu, who is known for an Elemental Burst that easily applies Hydro DMG to enemies, even when he's off the field. This especially matters for a main DPS who can easily take advantage of the Hydro status to set off devastating elemental reactions in Electro-Charge (Taser) and Vaporize comps.
Yelan's raw stats as a five-star and her abilities let her deal more damage than her four-star counterpart. Her Elemental Burst, Depth Clarion Dice, can grow even stronger with HP% artifacts, so it even has more damage potential than Xingqiu's burst. With that in mind, an ideal build should maximize HP and Hydro DMG. Energy Recharge (ER) will also matter for keeping her skills and burst charged as often as possible.
Here's an example of a build that does just that:
Weapon: Aqua Simulacra - HP is increased by 16%. When there are opponents nearby, the DMG dealt by the wielder of this weapon is increased by 20%. This will take effect whether the character is on-field or not.
Artifact: (4) Emblem of Severed Fate
Aqua Simulacra is made for Yelan. Its main stat is Crit DMG, which already guarantees packing more power per arrow each time she lands a critical hit. However, the bow's ability also increases HP, which further increases Yelan's Hydro DMG when using her Elemental Skill and Burst.
That being said, Aqua Simulacra is less important if Yelan is your sub DPS. Most of the time, you want your main DPS to be on the field. Yelan won't be critting (dealing critical hits) that often if she's just there to pop her burst and rain on enemies with Hydro DMG. A Yelan sub DPS should enable teams to take advantage of elemental reactions like in Taser and Vaporize comps. Elegy of the End works as a reasonable replacement because its Elemental Mastery buff increases damage from these reactions rather than Yelan's personal damage.
As for artifacts, Emblem of Severed Fate is ideal because it boosts ER and Burst damage as a four-piece set. Yelan's main utility is in her burst, which coordinates Hydro DMG with normal attacks and can be used even when she isn't on the field. Ideal substats include HP, ER, Crit DMG, and Crit Rate.
Genshin Impact Yelan F2P build
Of course, not all of us can afford to roll for five-star characters and five-star weapons. Here are a few free-to-play friendly options that can work in place of the premium ones.
Weapon: Favonius Warbow - CRIT hits have a 60% chance to generate a small amount of Elemental Particles, which will regenerate 6 Energy for the character. Can only occur once every 12s.
Artifact: (2) Heart of Depth, (2) Tenacity of the Millelith
Favonius Warbow works best as a four-star bow option, mainly because of its hefty ER boost. Its ability also helps collect energy particles for Yelan's burst, so long as Crit Rate is high enough. The Sacrificial Bow also features ER as its main stat, but its ability is less important. It has the chance to reset the cooldown for Yelan's Elemental Skill. The Stringless can also increase damage for elemental reactions with its Elemental Mastery stat. If you go with that, though, you'd best invest in Emblem of Severed Fate because your weapon won't help charge your burst.
If you don't have any of those three bows, you can also bank on the Fading Twilight bow that's a free reward in the Perilous Trail event. That's a limited-time item that you can only earn now, though.
A four-piece Emblem of Severed Fate should work well with most bows. However, if you already have the Energy Recharge buff from Favonius Warbow or Sacrificial Bow, you can slap on two-piece Heart of Depth and Tenacity of the Millelith. The Hydro and HP buffs from both increase Yelan's damage for her Elemental Skill and Burst.