How to start the new Hildibrand and Omega quests in FFXIV patch 6.15
Reunited and it feels so good.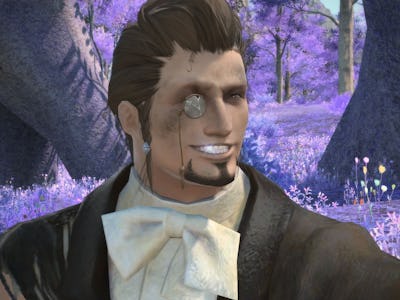 Square Enix
Patch day always means a wealth of new content to dig into in Final Fantasy XIV, and despite being a smaller patch 6.15 adds a surprising amount of story content. Chief among the additions is the long-awaited return of Hildibrand Manderville, the self-proclaimed "Gentleman of Light." However, most of the content added in the new patch has a few prerequisites you'll first need to meet in Endwalker. Here's an overview of everything in FFXIV's Patch 6.15, and how to start the new content.
Somehow Further Hildibrand Adventures
After skipping the Shadowbringers expansion, Hildibrand finally returns in Endwalker. If you want to reunite with the inspector, however, you'll first need to complete the main scenario of Endwalker, as well as all of the previous Hildibrand quests from Heavensward and Stormblood. The FFXIV wiki has a list of all the previous quests if you need them. You'll also need to have a character at level 90.
If you've done all that, then head to Radz-at-Han and talk to the "Excitable Youth" (X:11.8 Y:11.2). At the moment there are only two Hildibrand quests, but like with his past questlines more will be added in later patches.
Omega: Beyond the Rift
Yet another returning storyline in patch 6.15 is Omega, bringing back the adorable Chocobo Alpha and continuing the narrative setup with the raids in Stormblood. Of course, this means you'll need to have completed the Omega raids up through the quest "A Dream in Flight," as well as the main scenario of Endwalker.
Once those quests have been completed, and if you're level 90, head to Old Sharlayan and talk to the "Bespectacled Technician" at (X:10.9 Y:14.3). Once again, you can expect this questline to continue into further patches.
Tataru's Grand Endeavor
The backbone of the Scions finally gets her chance to shine in her very own questline. The only prerequisite to start this quest is to complete the main scenario of Endwalker up through "Newfound Adventure," which means all the way through the quests added in patch 6.1. Once that's done head to Old Sharlayan and talk to "Mehdjina" at (X:11.8 Y:9.8) to start Tataru's Grand Endeavor.
Custom deliveries for Ameliance
Crafters and gatherers also have a nice piece of new content, which even lets them dress up Ameliance Leveilleur. Before you can start doing custom deliveries you need to complete the main scenario of Endwalker, and the level 60 crafting quest "Go West, Craftsman," which is found in Mor Dhona at (X: 22.3 Y: 6.8). Make sure you also have a crafter or gatherer at level 80.
To start custom delivers head to Old Sharlayan and talk to "Well-Dressed Attendant" at (X:12.6 Y:9.7). Completing deliveries for Ameliance will award gil, experience, and scrips, but can also unlock additional quests. You can complete up to 12 custom deliveries each week, and once you've maxed out Ameliance's satisfaction level you'll be able to cast glamours on her.
Arkasodara Tribal Quests
Endwalker finally receives its own Tribal Quests, with the usual scenario and dailies that entails. Like with past Tribal Quests, there are a couple of prerequisites, and in this case, you'll need to have completed two different lines of sidequests. The first questline starts with "Steppe Child" which can be undertaken at level 80 and is found in Thavnair (X: 25.6, Y: 36.1). There are four quests in this line, so make sure to follow the objectives until you completed "The Yedlihmad Hunt."
Now the second questline you need to complete starts with "What's in a Parent" in Thavnair (X: 29.2, Y: 15.3). However, you won't be able to start this quest until you've completed the level 85 MSQ "Under His Wing." Once again this line has four quests, so make sure to follow it through the completion of "Societal Alchemy."
Now once you've finally done all that, and completed the Endwalker MSQ, you can finally start the Tribal questline by undertaking "Hippos Born to Run" in Thavnair (X:25.3 Y:31.2). Once daily quests are unlocked you can complete five each day, and they'll reward Arkasodara Pana which can be used at the local vendor.
Job updates and other changes in 6.15
You can see the full 6.15 patch notes over on FFXIV's official site, but there are a handful of smaller changes that we'll highlight here. Here are the job changes in the patch.
Ninja Job Changes
Shukuchi - The Hidden effect will now end even when using Sprint.
Meisui - Base cure potency has been reduced from 10,000 to 8,000.
Black Mage Job Changes
Paradox - This action no longer has charges.
Night Wing - Half-asleep effect no longer reduces target movement speed.
Soul Resonance - Damage reduction from the Apocatastasis effect has been changed from 20% to 10%.
On top of that, here are some of the other smaller changes and additions in the patch.
New Hippo mount
New Arkasodara minion
New teeming waters and fish
New Triple Triad cards and opponents
Bug fixes for Crystalline Conflict
All Moonward Gear can be sold, desynthesized, or turned in for expert deliveries
New items added to the inventory of Calamity salvagers
New Housing Furnishing items