Elden Ring DLC Leak Hints at a Surprising Bloodborne Connection
Shadow of the Erdtree may be Elden Ring's only expansion.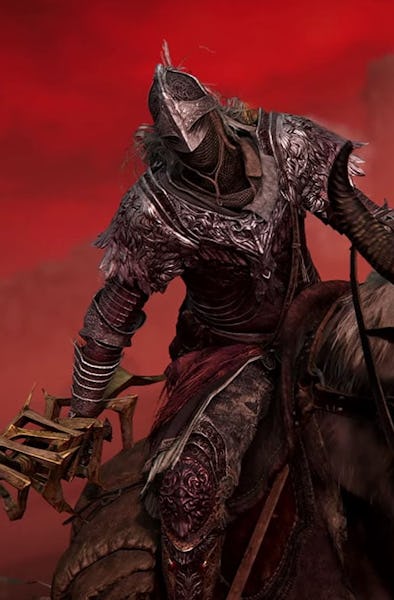 Bandai Namco
While we know next to nothing about the upcoming Elden Ring DLC, Shadow of the Erdtree, that hasn't stopped it from being one of the most anticipated gaming releases in recent memory. Since developer FromSoftware hasn't offered much information about Shadow of the Erdtree, much of what we know about the DLC comes from data miners, and the latest leak has major implications for what to expect from the new content. Elden Ring was apparently supposed to receive two DLC expansions before the add-ons were merged into one, which is exactly what happened with Bloodborne: The Old Hunters, the only DLC released for the beloved horror game.
Data minerLance McDonald, who has a positive track record with uncovering information about FromSoftware's games, revealed that Elden Ring's DLC plan was originally much different. A screengrab from a Discord conversation with McDonald (as shared on Reddit) offers a basic look at the original DLC plan.
"Elden Ring was meant to launch with a season pass for two DLCs," McDonald said. "It was all 100 percent planned." It's unclear how far in advance this was in the works, but it evidently never came to be.
Some of FromSoftware's previous games, namely Dark Souls 2 and Dark Souls 3, had season passes with multiple stages of DLC. However, Bloodborne instead featured the single DLC that launched eight months after the game's initial release. This wasn't always the plan. FromSoftware was working on two Bloodborne DLCs before merging them into what would become The Old Hunters.
"We were originally planning on doing two sets of DLC," Bloodborne producer Masaaki Yamagiwa told Eurogamer in 2015. "It was decided that with one set, we'd be able to do more with it, and have more volume for players to play with. As of right now, we have no plans for any more DLC." That final plan stuck, as Bloodborne never got any more additional content.
It seems FromSoftware may be doing the same thing with Elden Ring. Of course, this information hasn't been confirmed by any official sources, but given the leaker's track record, there is likely truth to McDonald's claims.
As McDonald explained, Elden Ring was "missing tons of content," which was discovered as part of an initial data mine around the game's launch. McDonald found evidence of lots of content that wasn't in the game, including various NPCs, questlines, and what would eventually become the Colosseum. It's possible there are other files in the game that are tied to upcoming DLCs.
In reference to Elden Ring's initial DLC plan, McDonald said, "No idea when it was canceled exactly, it just never happened, and then the colosseums just randomly showed up for free."
If true, it's unclear why exactly FromSoftware and publisher Bandai Namco have decided to release just one large DLC instead of two more minor add-ons for Elden Ring. There may be data to suggest that releasing one single expansion is more lucrative than publishing multiple DLCs. Perhaps FromSoftware was seeing diminishing returns by releasing multiple smaller DLCs, possibly generating fewer profits than expected.
FromSoftware knows what it's doing. Bloodborne: The Old Hunters was critically acclaimed, and given the success of Elden Ring, that momentum will likely continue with its Shadow of the Erdtree DLC, especially considering how much time FromSoftware has spent on it. Since this will seemingly be the game's only major expansion, the developer can pour many of its ideas into the upcoming DLC, hopefully leading to something special.
It's unclear when the upcoming DLC will launch, but it's possible it will launch sometime in 2023 or 2024.