Play the Classic RPG That Inspired a Cult Icon on Switch Online ASAP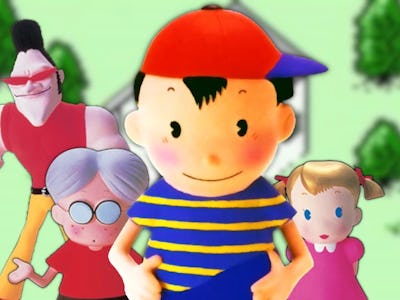 Shigesato Itoi did not come from the world of video games. First, he put his creativity to commercial use through copywriters for ads. Then, in 1981, he published a book of short stories with the now world-famous Haruki Murakami, although reviews describe it less as a collection of short stories and more a "collection of random, aimless pieces of light-hearted writing that Murakami and Itoi clearly enjoyed making." Jumping from medium to medium, he also voiced a character in the Japanese version of Studio Ghibli's My Neighbor Totoro.
Like many restless creatives in the 1980s, Itoi became interested in digital work. While visiting Nintendo for some work as a copywriter, he shot his shot with Shigeru Miyamoto. Walking into Nintendo and pitching a game to Miyamoto — it's hard to imagine a bigger gamer fantasy. While clearly a rising star, neither the industry nor Miyamoto was yet at the height of their power.
Itoi's idea was to take the role-playing mechanics of a game like 1987's Final Fantasy and move into the modern world. It was an intriguing idea, since it meant forgoing familiar genre tropes for RPGs like magic, dragons, and children wielding powerful weapons. The proposal was intriguing, but Miyamoto wasn't convinced.
"He said it looked good, but that didn't mean I could pull it off," Itoi recalled in a 2013 interview.
Coming from the world of advertising, Itoi was used to seeing a project through from conception to completion, and once a proposal looked good, it was likely to get made. Miyamoto "calmly and gently" explained to Itoi that video games worked differently. And his relative fame and other job only made Miyamoto more skeptical that Itoi would see the project through.
But, speaking with Itoi, Miyamoto said that he, too, "was often misunderstood in the game industry. People assumed that all I had to do to sell a game was put my name on it." When Itoi proved himself ready for the challenge by taking on less work, a group started to gather in what Miyamoto described as feeling like an "after-school club." The first result was 1988's Mother, or as it's known in the West, Earthbound Beginnings. You can play it right now if you've subscribed to Nintendo Switch Online + Expansion Pack.
The first Mother game will feel very simple to the modern player, but manages to squeeze a lot of charm out of its simplicity. The game starts off in 12-year old Ninten's (or whatever name you want to give him) very simple room, which suddenly is acting bizarre. It seems to be a poltergeist, possessing lamps and dolls.
After fighting them off, Ninten gets to recuperate with his family, including sisters who offer up orange juice (health) and a mother who will make his favorite dish. He fights off some rats in the basement to find a baseball bat, and gets a very important phone call from his father, who gives him money and offers to save his game.
From there, it's off to the town of Podunk, with run-ins with animals gone rabid (and an angry farmer named Wally) shows that something is definitely off. There are a few tasks to complete, like bringing a (healthy) baby canary with sad eyes back to its mother and rescuing a girl named Pippi from the graveyard, but the game seems very free from the pressure of having to do things. There's a relaxed feeling to Beginnings, a feeling that you're in safe hands with a game that might want to challenge you in combat, but still remain friendly.
Beginnings feels very personal, the type of game made by very specific people. At times, it can feel a little simplistic, especially in early combat, something that would be improved upon in Mother 2. For players familiar with Earthbound, this game will feel very familiar, almost like a proof-of-concept.
But it's still a blast. Itoi's games are bursting with creativity, offering a fun alternative to self-serious RPGs of the time (and today). He needed to make Mother to get to Mother 2, and the gaming world is far better off for it.
Earthbound Beginnings is available to play now on Nintendo Switch Online + Expansion Pack.