2015's Most Underrated Game Is Free Right Now — But You Have to Act Fast
This underrated undead gem is a must-claim.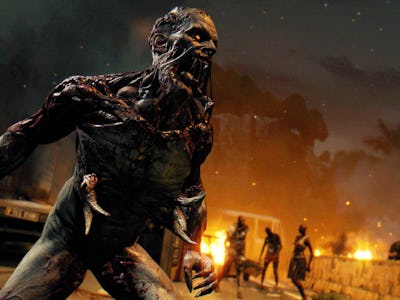 Techland
There's no shortage of excellent zombie games out there: Consider Left 4 Dead, Dead Rising, and the recently released Resident Evil 4 remake to name a few. One of the most underrated zombie adventures ever is Dying Light, which originally launched in 2015. This game had several innovative gameplay mechanics that helps it stand out, namely its fun parkour movement that lets you fluidly freerun across the city. And now, Dying Light Enhanced Edition is temporarily free on the Epic Games Store until April 13, 2023, giving you only a couple more days to redeem one of the best zombie games of all time.
Run and Hide
Dying Light is an open-world first-person action zombie game with RPG elements. In it, you play Kyle Crane, a man who must survive in the city of Harran against hordes of deadly infected. While its action and progression systems are well-designed, the game's best feature is its parkour movement.
Much like Mirror's Edge, Dying Light allows you to free-run across rooftops with ease, which feels immensely satisfying, especially after you gain access to better skills that improve your traversal abilities.
Unlike other zombie games that emphasize combat frequently, Dying Light encourages you to run instead, especially at night, which is when the hordes become much deadlier. It's a refreshing take on the zombie formula that allows you to play how you want: You can battle the zombies head-on if you really want to, or you can just run away.
Dying Light also feels different in that it doesn't focus on guns. Instead, you're equipped with a wide variety of melee weapons like axes, hammers, and whatever else you can find around the world. This forces you to get up close and personal with your enemies, adding a bit of risk/reward to the combat.
When you do inevitably battle enemies, you'll find that each swing of your weapon feels impactful and satisfying. Boss battles also have a feeling of weight to them, and the creature designs are genuinely horrifying, making each encounter feel scary and challenging.
Dying Light truly is a game that fires on all cylinders, and it doesn't get the credit it deserves. Maybe becoming a high-profile freebie is the best thing that could've happened to it?
Bigger and Better
The base version of Dying Light was already packed with things to do, but the Enhanced Edition — which is what's available for free via the Epic Games Store — has an almost overwhelming amount of content.
It includes The Following expansion, which features more story content and additional zones to explore; The Bozak Horde, sending you to the Harran stadium to compete in various trials; the Be the Zombie multiplayer mode. All of these add extra missions, items, and other features to an already solid gameplay experience.
Techland is also offering the TGG Welcome Pack, which includes the Last Hope and Alternator weapons, the Deadeye's Bow blueprint, the Ratty Outfit, and the Survival Kit bundle. To acquire the TGG Welcome Pack, players need to visit the Techland website and connect their account.
While the main Dying Light story itself can be completed in around 17 hours, be prepared to spend upwards of 130 hours if you plan on doing everything the game has to offer.
It seems like Techland is leveraging this as an opportunity to get players to try the game's sequel, Dying Light 2 Stay Human, which is also worth playing, albeit with a price tag above zero dollars.