Countless Zombie Movies Later, Zombieland's Is Still A Ton of Fun
The Scream of zombie movies holds up.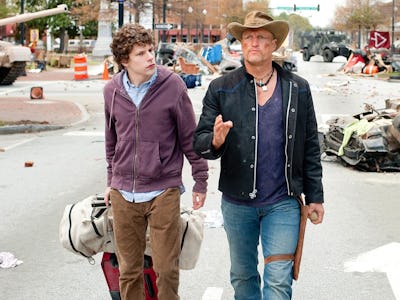 Sony Pictures
Nowadays, the horror comedy genre doesn't feel as fresh as it did when pioneering filmmakers like Sam Raimi and John Landis brought it to the mainstream in the 1970s and '80s. And in a post-Scream world, the thought of characters openly discussing how to survive a horror movie doesn't feel nearly as groundbreaking as it once did. For all those reasons and more, a contemporary horror comedy has to get a lot right to land with moviegoers.
That's what makes Zombieland so impressive. The 2009 film not only introduced viewers to the sarcastic, tongue-in-cheek voices of Deadpool screenwriters Rhett Reese and Paul Wernick, but it helped cement several of its stars as some of Hollywood's most recognizable faces. Even more importantly, the film manages to combine elements from disparate genres — the ensemble comedy, the gory zombie thriller, the meta-horror movie, and even the rom-com — in a way that still feels refreshing and unique.
As its title suggests, Zombieland takes place in a post-apocalypse where most of Earth's humans were turned into mindless zombies. Columbus (Jesse Eisenberg), is a nerdy and conflict-adverse survivor who follows a very specific set of rules he's developed to help him stay alive. Among them, most of which appear on-screen in a giant font whenever he mentions them, are common sense highlights like "Rule #1: Cardio," "Rule #2: Double Tap," and "Rule #4: Seatbelts."
But Columbus is forced to rethink his rules after he joins up with an older, foul-mouthed survivor named Tallahassee (Woody Harrelson), as well as Wichita (Emma Stone) and Little Rock (Abigail Breslin), a pair of cutthroat sisters who repeatedly outsmart them. Together, they set out on a journey to an abandoned amusement park. They engage in more than their fair share of chaos along the way, and the film packs in an extended celebrity cameo that's become justifiably iconic in the 14 years since Zombieland was released.
The film doesn't ever pass up an opportunity to showcase the kind of chaotic fun that could be had in its violent and scary world. As Zombieland points out, a world overrun by zombies presents plenty of challenges, including having to walk into every public bathroom prepared to fight for your life. It would also, however, give human survivors the chance to tour through the abandoned Beverly Hills homes of all of their favorite celebrities, and get free access to amusement parks.
Wernick and Reese's script wholeheartedly embraces both the freedom and horror of a zombie apocalypse. In doing so, the film brings a kind of self-referential, anarchic spirit to the zombie genre, while delivering all the blood and guts fans expect. While the film's tongue-in-cheek sense of humor was badly imitated many times in the years following its release, its acknowledgment of tried-and-true zombie movie tropes (like always making sure a zombie is dead) felt as fresh in 2009 as Scream's moments of meta-humor did in 1996.
Visually, Venom director Ruben Fleischer leans into Zombieland's action and horror elements by fully committing to the gore. In front of the camera, Eisenberg and Stone give two of the most charismatic and important performances of their careers, while Harrelson steals the film with a performance that showed off his comedic and dramatic range, and helped pave the way for his current status as a go-to character actor.
Together, the film's stars ensure that Zombieland works on several levels. In certain moments, the film feels like a legitimate ensemble Hollywood comedy. Elsewhere, it's as gory and genuinely thrilling as any action-horror movie Hollywood has produced this century. Ultimately, it emerges as the kind of multi-faceted, crowd-pleasing blockbuster that feels increasingly rare nowadays, especially since it crams it all into a lean 88 minutes. It's a slice of popcorn entertainment that's as clever and meta as it is big-hearted and sincere.
Zombieland is streaming on Netflix.