Destiny 2 Iron Banner Pressurized Precision God Rolls and How to Get Them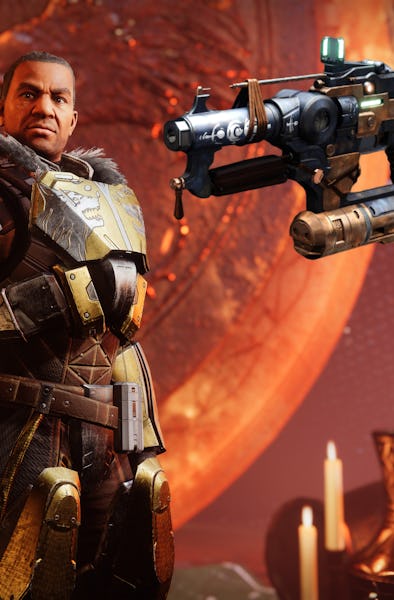 Get ready Iron Lords and Ladies, because Saladin is back at the Tower in Destiny 2 for a new round of Iron Banner, the competitive PVP event that comes only a few times each season. This time around, he's bringing with him the first-ever fusion rifle powered by Strand, the new Darkness-based element introduced in Destiny 2: Lightfall. We're only a couple of weeks into Season of the Deep, which brought us back to the methane ocean of Titan, but until the next reset, Iron Banner will be the focus.
Saladin's unique weapon offerings are Pressurized Precision, the brand-new Strand Fusion Rifle, and Swarm of the Raven, a returning Grenade Launcher. Because Pressurized Precision is the first of its kind, it can fit into all sorts of different Strand-based builds. To top it all off, similar to other Darkness-based Fusion Rifles like Riptide, it takes up your primary weapon slot rather than secondary. So it's worth hunting down the best rolls you can and saving them for a rainy day.
Here's how to get the Pressurized Precision Fusion Rifle in Destiny 2.
Destiny 2 Pressurized Precision Stats and Details
Pressurized Precision is a new Strand Fusion Rifle from the first Iron Banner of Season 21. So we're talking about a punchy energy weapon with charge times with big burst damage. It intrinsically has an adaptive frame which makes the grip well-rounded, reliable, and sturdy.
According to Shack News, the Pressurized Precision Fusion Rifle comes with the following stats:
Impact: 70
Range: 40
Stability: 42
Handling: 35
Reload Speed: 40
Reload Time: 2.3s
Aim Assistance: 43
Zoom: 15
Airborne Effectiveness: 4
Recoil: 55
Charge Time: 660
How to Get Pressurized Precision
Pressurized Precision is one of the rewards featured in this season's Iron Banner. Just keep ranking up and you should be able to claim the new Strand Fusion Rifle in no time. As per the Destiny Director Twitter, you need to reach Rank 4 to claim the Pressurized Precision weapon reward.
But once you've acquired at least one version of the weapon, either via the Rank 4 reward or by random loot drops, you'll be able to focus Iron Banner engrams with Lord Saladin to receive subsequent rolls.
PVE God Roll
Perks that lower recoil, increase handling, and generally keep your aim speedy but stable are ideal choices for a Pressurized Precision rifle. The Arrowhead Break barrel increases handling with minimal recoil. (Fluted Barrel is a serviceable second option if that's what you get.) Meanwhile, the Accelerated Coils magazine combats the long charge times that the Fusion Rifle is known for in exchange for a longer Impact.
Auto-Loading Holster is reliable on any Fusion Rifle (because they tend to have long reload times) as it refills the magazine from reserves after 2.5 seconds of stowing it. But a slightly preferable third-column perk, Encore, stacks stability, range, and accuracy bonuses for subsequent eliminations.
In the fourth column, you really can't beat Vorpal Weapon for PvE because of the increased damage against bosses. But if you're leaning more into a Strand build, then Hatchling is worth pursuing as well.
Here's one Pressurized Precision Fusion Rifle God Roll that can especially help you with PvE.
Arrowhead Break (Barrel) - Recoil +30, Handling +10
Accelerated Coils (Magazine) - Speeds up charge time by 40ms and damage by 2 percent, Impact -10
Encore (Perk 1) - Final blows grant a stacking stability, range, and accuracy bonus to this weapon. Precision final blows grant more stacks. Effect duration is improved.
Vorpal Weapon (Perk 2) - Increased damage against bosses, vehicles, and Guardians, Stability and Guard Resistance +5
Skulking Wolf (Origin Trait) - While at low health, Guardian final blows with this weapon grant enhanced radar and remove you from opposing radar.
Masterwork - Range, Handling, or Stability
Ultimately, these will stack to boost Range, Stability, and Handling further. Most importantly, it'll improve the recoil direction drastically, ensuring it'll be easier to land shots. In terms of mods, you could go for Boss Spec to emphasize Vorpal Weapon even further or something like Backup Mag to increase the size of your magazine.
We picked these attachments based on condensed information from our own experts and other content creators like Ibetonme.
PVP God Roll
You can technically use the same god roll for PvE and PvP, but Vorpal Weapon becomes far less useful in the Crucible as it's very situational. Perpetual Motion will instead stabilize your aim and reload while you're in motion, which should be almost constant. Firmly Planted is almost as good here, but would also require you to spend more time firing from a crouched position.
Rangefinder can also better enable your aim with the increased zoom and aim assist. High-Impact Reserves could also make rounds at the end of your magazine deal more damage. If you go for that route, then you'll want to ensure your magazine is as small as possible.
Here's just one example of a PvP God Roll you can use for Destiny 2.
Arrowhead Break (Barrel) - Recoil +30, Handling +10
Accelerated Coils (Magazine) - Speeds up charge time by 40ms and damage by 2 percent, Impact -10
Perpetual Motion (Perk 1) - While moving at a minimum of 2 meters per second: Gain a Stack that grants +10 Stability, +10 Handling, and +10 Reload Speed. Up to 2 stacks.
Rangefinder (Perk 2) - While Aiming Down Sights: 10 percent increased effective zoon and 5 percent faster projectile speed.
Skulking Wolf (Origin Trait) - While at low health, Guardian final blows with this weapon grant enhanced radar and remove you from opposing radar.
Masterwork: Range or Handling
Counterbalance Stock (Mod) - Recoil +15
Destiny 2 Pressurized Precision Light.gg God Rolls
Because Pressurized Precision is so new, there's a comparatively small number of versions out in the wild. As such, the aggregated data over on Light.gg will surely evolve as more copies reach player vaults. As you may or may not know, Light.gg uses the Destiny 2 API to asses what specific weapon rolls and trait combos are most common for weapons. If players keep the weapon on a character or in their Vault, it'll show up. But the main flaw here is that it shows us what's popular and not necessarily what's good.
Currently, the most popular roll is Firmly Planted + Eye of the Storm. While that's a decent PVP roll, the only reason why it makes up 50.62 percent of all known rolls as of this writing is that it's the default roll awarded to players at Rank 4 of Iron Banner. Based on the rest of the rolls in existence, these are the next-best main perks
Firmly Planted + Rangefinder
Discord + High-Impact Reserves
Auti-Loading Holster + Rangefinder
Firmly Planted + High-Impact Reserves
Perpetual Motion + High-Impact Reserves
Moving Target + Rangefinder
Discord + Hatchling