Everything we know about Deltarune Chapter 2
Deltarune is coming Delta-soon.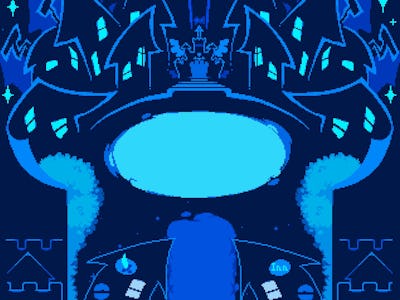 The Annoying Dog has returned. Six years ago, Toby Fox's influential indie RPG Undertale was released. October 2018 saw the debut of the first chapter of Fox's follow-up, Deltarune, which features many familiar faces in what seemed to be an alternate reality version of the Undertale universe. Fox has been hard at work on Deltarune Chapter 2 ever since, and now, after years of waiting, we finally know more.
We finally know more about the game's story, and when it's coming out. Better still, that release date's coming up awfully soon. Here's everything we know about Deltarune Chapter 2.
When is the Deltarune Chapter 2 release date?
Deltarune Chapter 2 will be available on September 17, 2021 at 8 p.m. Eastern.
When is the Deltarune Chapter 2 PS4 and Nintendo Switch release date?
You'll only be able to play Deltarune Chapter 2 on Mac and PC at launch.
There are currently no announced plans to bring the game to other consoles like Nintendo Switch and PlayStation. The first Deltarune was available on PS4 and Switch, so the sequel will likely be available on consoles at some point as well.
Is there a Deltarune Chapter 2 trailer?
Despite what the numerous fan-made videos imply, there is not yet a trailer for Deltarune Chapter 2.
What's the gameplay like in Deltarune Chapter 2?
Similar to Deltarune Chapter 1, the second chapter will feature turn-based combat resembling the Final Fantasy series. There will be some bullet hell components, but that'll no longer be the main event. Other changes include the removal of random encounters.
You'll now be able to see enemies on the overworld before fighting them, giving you a chance to avoid them altogether.
How much will Deltarune Chapter 2 cost?
When Deltarune Chapter 1 was released, it was shockingly free and has remained that way.
While it would be great to play an entire game for absolutely free, Deltarune Chapter 2 will cost real money to play. This is according to a 2019 trailer for Deltarune, which ended on the tag "*More chapters currently in development (...will not be free)"
It's unknown how much Deltarune Chapter 2 will cost. Perhaps it will be around the same price as Undertale, placing it at $9.99. We'll find out a concrete price on September 17.
Can you use your Deltarune Chapter 1 save data in Deltarune Chapter 2?
Yes! If you got to the point in Chapter 1 where you saw the credits as your character went to bed, your save can be carried over to Chapter 2. If you've lost your save in the years since Deltarune Chapter 1, you won't be able to carry over your choices, but should still be in the clear for playing the game.
Is Deltarune Chapter 2 the last chapter in Deltarune?
No, it's not. In the Famitsu article, Deltarune Chapter 2 and Deltarune as a whole are treated as separate entities, implying there will be more than the two chapters. We don't know how many chapters Deltarune will include, but Fox has completed the outline of events of all chapters and the "first draft" of all cutscene dialogue.
In his Status Update from September 2020, Fox had a section labeled "Progress chapters 3+." This titling implies that there will be at least four chapters in the Deltarune with room for more.
Items beneath the Progress Chapters 3+ title, imply there will be at least six total chapters. Under "Map Design" Fox says the completion of the map "varies per chapter, earlier chapters totally completed."
Fox uses the plural terminology of "earlier chapters" in the section for Chapters 3+, implying at least two chapters make up a section. If Chapters 3 and 4 are considered "earlier" then at least Chapters 5 and 6 must exist to make "later" chapters.
Not counting the prologue, a single Undertale playthrough lasted six chapters. Perhaps that's the number we can expect for Deltarune.
When is the Deltarune Chapter 3 release date?
While Deltarune Chapter 2 took nearly three years to release, Deltarune Chapter 3 might be a bit faster. "After gaining experience from this chapter [Chapter 2], I think making future chapters will be easier," said Fox in the September 2020 Status Update.
We'll have to see if that remains true.
How many endings will Deltarune have?
Undertale famously had three distinct endings. Deltarune will have just one. While this might dissuade some gamers from enjoying Deltarune, Fox has confirmed that your choices still matter. In an FAQ, Fox said, "There's something more important than reaching the end." This coyly implies that parts of the game might be significantly different between playthroughs.
Your choice still matters, it just won't affect where the characters end up.
Is Deltarune a sequel to Undertale?
Not quite. Deltarune takes place in a world distinct from Undertale's, but Fox has confirmed there will still be some connection between the two.
"Deltarune's world is a different one [from Undertale]," said Fox in an FAQ. "With different characters, that have lived different lives. A whole new story will happen ... I don't know what you call this kind of game. It's just a game you can play after you complete Undertale, if you want to."
As seen in Deltarune Chapter 1, characters from the first title will appear in the game, but they won't have lived the same lives as they did in the original. To understand every reference, Deltarune players should still beat Undertale before playing.
This article was originally published on