Everything you need to know about the Call of Duty: Warzone MOAB bundle
Activision might not ever drop the mother of all Warzone bundles.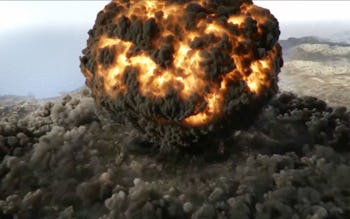 Call of Duty: Warzone's rumored "Mother Of All Bundles" — otherwise known as the M.O.A.B. Battle Pass Bundle — could forever remain a rumor. Despite briefly appearing on the Call of Duty website and mobile app Tuesday afternoon, very little had been officially confirmed about the leaked collection.
With that qualifier in mind, here's a look at everything we've since heard about MOAB including its price, contents, and potential release date.
When is the Warzone MOAB Battle Pass Bundle release date?
Unfortunately, according to a recent report published by COD Tracker, it looks like the MOAB Warzone and Modern Warfare bundle may never release at all. The data-mining website recently suggested that even though the package just recently made its presence known, the files pertaining to it had been a part of the Modern Warfare code base since 2019.
The outlet further suggests that the fact MOAB first appeared in the Call of Duty Companion App should serve as a warning to players as well, as many bundles have "leaked" via that store that never came to fruition.
How much does the Warzone MOAB Battle Pass cost?
The defunct listing for the MOAB adverstised the bundle with a whopping 10,000 CoD Point price tag (the equivalent of $100), but COD Tracker's report claims that shocking number isn't all that uncommon for content that's incomplete. Activision has allegedly used $100 as a placeholder price for items in the past, but, because that info is meant to be hidden from the public, it's not something we've previously seen.
In other words, if another bundle appears with that price tag that hasn't been officially announced, there's a solid chance the price will either change or the item it's attached to may never be released.
What is included in the Warzone MOAB Battle Pass Bundle?
Based on the latest data-mine that currently exists, the MOAB bundle for Call of Duty: Modern Warfare and Warzone was expected to include 100 Tier Skips and the Modern Warfare Season 1 Battle Pass. This obviously wouldn't be a very worthwhile bundle for most folks, however. If it were to ever exist, we imagine the true MOAB bundle would've included something more interesting. Much like the pricing, these items were likely just a placeholder for future additions that never came to be.
Prior to being debunked, there were two interesting theories about the MOAB. Given its excessive price, the most popular assumption amongst fans was that MOAB may feature every single Battle Pass cosmetic from the past six seasons of Modern Warfare. The newer Black Ops Cold War has taken over much of the Call of Duty store since that game's launch, so it'd make sense for Activision to find a clever way to bring those old cosmetics back for the hardcore fans who really want them.
The other more exciting prospect discussed by the community was that this bundle could have had something to do with a remaster or re-release of Call of Duty: Modern Warfare 3. As those who follow Call of Duty closely will know, the MOAB was a secret Killstreak in the 2011 game that was earned by accruing a whopping 25 kills in a row.
The beloved title is about to celebrate its 10th anniversary, so might Acivision be gearing up for a big announcement in the near future? Some fans felt a bundle of this type might include the supposed remaster and a large assortment of cosmetics.
This article was originally published on