Is Brian David Gilbert in Honkai: Star Rail? An Investigation
I've heard that voice before.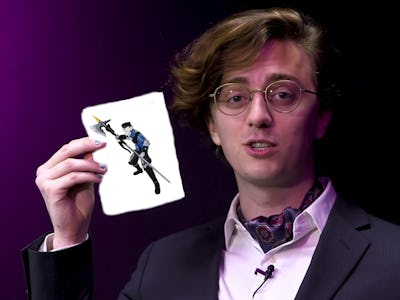 Polygon / HoYoverse
Spend enough time watching anime or playing video games and it won't be long before you can start picking out certain voice actors. It isn't shocking to hear the likes of Laura Bailey or Troy Baker pop up in the Big New Thing. But every now and again, you might be taken off-guard by a voice you never expected to hear outside a specific context.
Such is the case with one particular NPC in Honkai: Star Rail, whose voice sounds a lot like former Polygon personality, YouTuber, writer, and occasional voice actor Brian David Gilbert. But is that actually him in Honkai: Star Rail, or are fans just hearing things?
The NPC in question is a Silvermane Guard posted outside the Energy Hub in the Restricted Zone of Belobog. His voice has sent many players to the internet in search of proof that this is Brian David Gilbert, with one Reddit thread dedicated to this question filled with comments of people saying they stumbled upon this thread after coming to the same conclusion upon meeting the Silvermane Guard and seeking answers on the internet.
So why is this such a big deal? Gilbert (often just referred to as BDG by his fans) began to gain popularity when he joined Polygon as a Video Producer at the end of 2017. He soon became known for his humorous and unhinged deep dives into gaming, most notably with the series Unraveled which included videos like "I read all 337 books in Skyrim so you don't have to" and "Pokémon Edibility" to name just two.
As one of the stars of Polygon's video coverage, Gilbert's unique videos found a large audience and dedicated fanbase. At the end of 2020, Gilbert announced he would be leaving Polygon and starting a Patreon for his own YouTube channel as well as pursuing other writing and voice work.
With his history of voice work (including an appearance as Petersen in Fallout 76), it isn't unreasonable that Gilbert is the voice behind the Silvermane Guard. It also would track that Gilbert is in Honkai: Star Rail, which leans heavily into metatextual humor and makes some pretty incisive commentary on the games industry at large.
However, after diving into the cast list and credited voice actors on Honkai: Star Rail, Gilbert's name does not show up. That does not mean this theory is disproved, however. Crediting for minor roles can often be lacking in games, especially those with sprawling casts like Honkai: Star Rail. So, what else can we do?
"At this point I think we'd literally just have to ask the guy lmao," says one Reddit user.
So that's precisely what we have done. In pursuit of a definitive answer on whether or not Brian David Gilbert is the voice actor behind the Silvermane Guard in question, Inverse has reached out to Gilbert, his agency, and HoYoverse for comment.
At the time of publishing, Inverse has not received comment, but we will not rest until the truth has been revealed.