Everything you need to know about Battlefield 2042
Battlefield reclaims the field.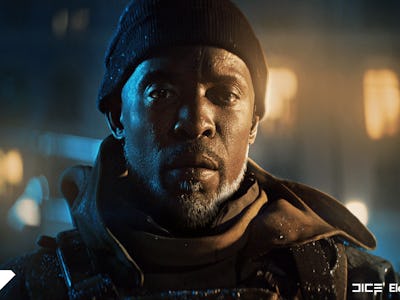 Battlefield is back. Perhaps in response to Battlefield V's lackluster sales, the shooter is skipping Battlefield VI and the hypothetical Battlefield 7 through Battlefield 2041. The newest entry will be called Battlefield 2042. It brings heavy destruction, iconic vehicles, and a player count larger than most battle royales.
Mere weeks ahead of the scheduled October 22 release date, Battlefield 2042 has been delayed. So when will the game actually come out, and why was it delayed? Here's what we know about Battlefield 2042.
When is the Battlefield 2042 release date?
Battlefield 2042 will be available on November 19, 2021.
Why was Battlefield 2042 delayed?
EA's delay announcement for Battlefield 2042 didn't specify a reason, but there's reason to suspect that problems with the PS5 version may have been a factor. That's because back in August 2021, EA cancelled a technical test for Battlefield 2042 on PlayStation 5 citing a "critical issue." EA didn't disclose specifics about the issue that scuppered the test, and hasn't said publicly whether it's been resolved.
Is there a Battlefield 2042 trailer?
Yes! You can watch it below.
In the trailer, we start by seeing a soldier who has been present in the other Battlefield 2042 trailers. He's then surrounded by ephemera from across the Battlefield franchise. The trailer continues by showing even more things like maps from previous Battlefield games and soldiers from all the games interacting. They're fighting using their unique skillsets.
This shows that players will be able to interact across generations of Battlefield. The trailer concludes by showing the antenna on Caspian Border falling from a new in-game levolution.
If you don't know, levolution is the term for massive in-game events.
What's Battlefield 2042 gameplay like?
"The closest comparisons are Battlefield 3 and Battlefield 4, right? Since they're both in the modern era, the equipment, vehicles, and weaponry are all similar to what you'll encounter in Battlefield 2042," said EA DICE senior game designer, Nickole Li when talking to Inverse.
2042 will feature many large-scale in-game events like Battlefield 4 did.
There will be three game modes for players to enjoy:
All-Out Warfare – a modernization of classic Battlefield modes like Conquest and Breakthrough. This mode will allow for up to 128 players.
Hazard Zone – a new squad-based mode that has yet to be fully detailed. This has been described as the response to a battle royale mode.
Battlefield Portal – a mode focused on celebrating the Battlefield franchise via remakes of old maps. This includes
One big gameplay change from previous Battlefield games is that you'll now be able to summon tanks to your location.
This choice was made to improve gameplay pace.
"You don't want to run all the way across the map to that vehicle depot, just to access that one stupid tank, then drive all the way back. You've already been running just to get to the action. All that labor would just would be a drag. Instead, you can just drop that tank right in front of you in Battlefield 2042," said Li.
When is the Battlefield 2042 Open Beta?
Ahead of Battlefield 2042's launch, the game was supposed to host an Open Beta in September. Given the delay, that Open Beta has been delayed as well.
According to Battlefield leaker extraordinaire, Tom Henderson, the new Beta dates are October 6 (Early Access) and October 8 (Open Beta).
How does Battlefield Portal work in Battlefield 2042?
Battlefield Portal is a new mode added for Battlefield 2042. It allows players to form custom gameplay modes using weapons, maps, and classes from previous Battlefield games.
Anyone can partake in Battlefield Portal. Once the game launches, you'll be able to enjoy making your own custom games using a browser-based map editor or an in-game one. Battlefield Portal-designed games can be played on any version of Battlefield 2042, but you might run into some player limitations on Xbox One and PS4, due to the lower specs.
The mode will facilitate fan fiction-y style matches like pitting Battlefield 3 classes against those from Battlefield 1942. If you can imagine it, Battlefield Portal will allow it to happen.
What are the Battlefield 2042 maps?
Seven maps are currently announced for Battlefield 2042:
Orbital – Orbital takes place by the rocket launch that your might've spotted in the trailer.
Hourglass – Hourglass takes you to a red desert area. Sandstorms will frequently get in your way here.
Kaleidoscope – This is a South Korean metropolis. Players will fight in skyscrapers and plazas. You'll traverse the map using ziplines.
Manifest – You'll partake in combat on a dock in Singapore. Tropical tornados will tear through your squad if you're not careful.
Discarded – Discarded brings you to a trading ship graveyard in India. You'll need to find cover in partially dismantled ship hulls.
Breakaway – An icy tundra used to extract oil. With every fuel can you break, another permanent flame will be added to the map.
Revival – The map is fifty percent Egyptian desert and the other fifty is a rich agricultural area. The sections are divided by a large wall.
These maps are all playable in the All-Out Warfare mode. If you play Battlefield Portal, you'll gain access to six additional maps that come from classic Battlefield games like Battlefield 1942, Battlefield Bad Company, and Battlefield 3:
Battle of the Bulge (Battlefield 1942) – An icy skirmish between the American and German forces
El Alamein (Battlefield 1942) – An Egyptian desert where players are fighting to control the Suez Canal.
Caspian border (Battlefield 3) – The map brings you to a forested area filled where you'll battle over a single antenna using numerous vehicles.
Noshahr Canals (Battlefield 3) – A port area that marries urban and rural sections.
Arica Harbor (Battlefield Bad Company 2) – Another port that mixes cargo spaces with encampments.
Valparaiso (Battlefield Bad Company 2) – A small Chilean city with an iconic jungle area as well as a big lighthouse.
It's worth noting that some maps have been altered to accommodate changes between Battlefield games. Both Battlefield 1942 maps have been increased in size and now allow for destruction. Additional classic maps might be added in later updates.
How many players can play Battlefield 2042 at once?
This depends wholly on the platform you're playing on. If you're on a next-gen console like PS5 and Xbox Series X|S or a PC, you'll be able to enjoy matches of up to 128 players.
If you're on PS4 or Xbox One, these matches will be limited to just 64 players.
Does Battlefield 2042 have cross-play?
Yes! Cross-play and cross-progression are both available in Battlefield 2042. However, who you can play with depends on your platform. There will be two ecosystems:
PC, Xbox Series X/S, PlayStation 5 consoles
Xbox One and PlayStation 4 consoles
This means if you're on PS4, you can't play with your PS5 buddies.
Despite this, everyone will have access to cross-progression. For example, if you reach level 40 on PS4, you should be able to transfer it to PS5 or Xbox Series X.
Does Battlefield 2042 have a story mode?
No, it doesn't have a mode specifically for the story. You can enjoy the narrative as it intersects with the multiplayer. The overall story will be told across battle pass seasons.
The story focuses on a group of 10 specialists, who all act as playable characters. Presumably, it will ape the structure used by Warzone, where the story mainly utilizes cutscenes at the start of each season to progress.
This article was originally published on