The Best-Selling Open-World Game Ever Made Is Finally Back on Game Pass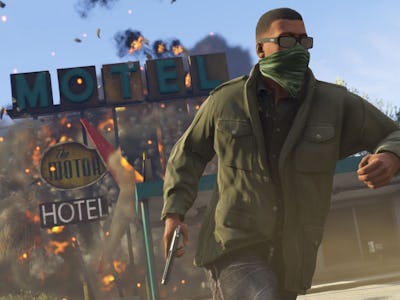 Freedom means living like no one's watching. This rarely happens. There's no shortage of drones and satellites keeping an eye on what you do. Even your car might be spying on you. This dystopian panopticon helps maintain order, but it stifles freedom. Leave it to video games for giving us a chance to glimpse our true selves. How would you behave if there were no rules? No guilt?
Grand Theft Auto V is the latest and arguably best entry in a franchise devoted to giving your id some time behind the wheel (and subsequent sidewalks). In a legendary series known for limitless, chaotic sandbox play GTA V serves up the loftiest ambitions to date. A massive map, a killer story, and an online mode that brings in half a BILLION a year despite being nearly a decade old. And now it's back on Game Pass.
At its core GTA V is a game about driving and shooting. You'll do a lot of both if you're aim is to blast through the campaign, which takes about 30-35 hours. It seems impossible to plop yourself into this vibrant game world and only focus on the waypoints and narrative direction, but the path Rockstar sets out for players is rife with burnt rubber and gunsmoke. This is not a criticism. Even though the game is a decade old these fundamental mechanics hold up and are as good as anything that's released recently.
Of course, the real joy of GTA V comes in those moments when you decide to freak out. Yes, the story is very good. Following the trials and tribulations of the complex, a superbly voice-acted trio of Michael, Trevor, and Franklin is what gives the single-player campaign its momentum.
But few thrills in gaming compare with letting the devil take the wheel, pop the curb, and send pedestrians rag-dolling across your car hood until the police chase starts. Then you spend the next half hour or so gunning your way around, leaving bodies and destruction in your wake. Eventually, you die, get captured, or escape, then get back on track to do whatever mission you ought to have been doing. Rockstar built one of the best open-game worlds of all time that feels authentic and alive. It's a pleasure to explore and destroy it.
The impromptu destruction derby vibes also translate to the online mode … kind of. For new players, hopping into GTA Online must feel a lot like jumping into a battle royale mid-match. You'll be on foot with a pistol and 36 bullets trying to have a meaningful fight against someone with an attack helicopter.
The best plan for new players in GTA Online is to turn on Passive Mode and focus on the grind. Playing with friends is best, and sticking to cargo drops and Adversary missions is the quickest way to level up and get access to the really good stuff. Earning cash can be a challenge, which is probably why Rockstar pulls in nine figures a year selling Shark Cards for in-game cash.
Get enough rep and cash and friends together and you can start thinking about heists. With 10 heists in total, they are the pinnacle of the GTA Online experience. They bring together all the elements that make the campaign so good. There's the looting and shooting you'd expect, all punctuated by great character work and strong writing.
There's a reason this game is still going strong 10 years later, and regardless if you've never played, haven't played in years, or still hop online, you should play it ASAP.
Grand Theft Auto V is now available on Game Pass. It's also for sale on Xbox, PlayStation and PC.