New Nintendo Switch 2019: Report Hints Release Date for Cheaper Model
It might be here very soon.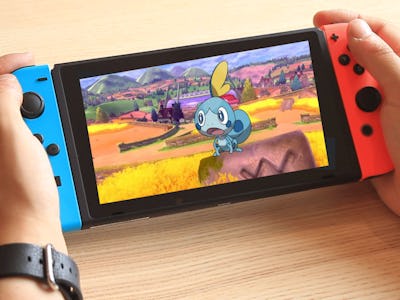 Nintendo
Nintendo's wildly successful Switch console will get at least one new variant this year. Two reported unnamed Switch units — going by unofficial online monickers like Nintendo Switch "Lite," "Pro," and "XL" — are on the horizon and a new report sheds light on when, exactly, fans should expect Nintendo to release the new devices, as well as a possible feature.
The release was originally reported by the Wall Street Journal in March. According to the paper's sources, the Lite is expected to be a slightly downgraded, cheaper version of the original. Its "Pro" counterpart is anticipated to be a higher-end console with a few flashy features to support a higher price point.
It also looks like these releases will be staggered, according to a Tuesday report by Japanese newspaper Nikkei.
Nintendo Switch Lite's Release Date and Features
Citing anonymous sources, Nikkei reports that the cheaper model will be released this fall. It also reports that some previous predictions about the console were correct: This version will do away with the original console's "switch-ability" and make it completely handheld. The report also states it will be able to cast games to TVs to act like a home console.
Here's the snippet referring to the Switch Lite translated using Google Translate:
"Nintendo will release a small bargain version of its main game console 'Nintendo Switch' this fall. The main function is as a portable type brought out outdoors, but it can also be played as a stationary type connected to a television."
This corroborates a prediction made by Ben Arnold, the senior director of innovation and trends at the Consumer Technology Association. He told Inverse that the Switch Lite would almost certainly come with TV-supporting features. But it remains to be seen how Nintendo will pull this off.
"I think even a portable-only device would have some connection to the TV, either an HDMI port or some wireless mirroring capability," he said. "There are other ways to design products for portability, [for example] through different form factors or internal components. I would expect any new media devices to have a tie-in with the TV."
Dr. Serkan Toto — the CEO of Kantan Games — predicted that the device would be fully handheld, like a PlayStation Portable. If its Joy-Cons are built into its body, users could use the console like a big controller while casting what's been displayed on its built-in screen to a TV. That's exactly how the Wii U was designed and could prove to be a winning strategy for the Switch Lite.
This more minimalistic design could greatly reduce the cost of the Switch Lite. Michael Pachter, analyst at Wedbush Securities told GamesIndustry.biz that he anticipates the Switch Lite to cost $199, exactly like the 3DS XL.
Nintendo Switch Pro/XL Might Face Delays
Nikkei goes on to mention another, "next-generation" Switch model. Based on this language, it's unclear if this refers to the high-end version of the Switch or a completely different console that Nintendo is working on to succeed it completely.
Here's the translated paragraph that mentions the device:
"Next to the compact and inexpensive version, the development of the next-generation model that completely remodels the current model will be postponed. It seems that he has repeated various trials, such as improving operability and image expression, and changing the basic software (OS), but here too, the situation is 'it is unclear who leads the concept creation'"
If this is about the high-end Switch variant, we might not see it hit shelves until 2020 or even later. This directly contradicts the WSJ report which says both models would launch in 2019.
There's still a lot we don't know about these two reported consoles. But between Nikkei's report and the predictions outlined by the WSJ, it increasingly looks like at least one new Switch device will arrive in time for the Holiday season.