The Best Video Game Trailers of E3 2017
There's plenty to love in gaming this year.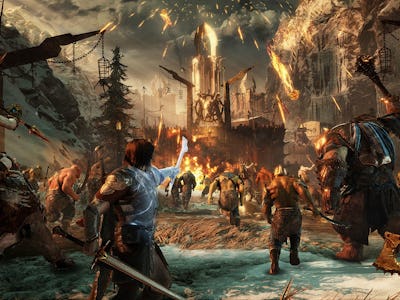 shadowofwar.com
E3 2017 once again brought together the biggest video game developers and publishers from around the world to showcase the best of their upcoming projects to thousands of fans eager to see what's next. Over the course of the week, there's been dozens of gameplay demos, breathtaking new trailers introducing new universes, and a few highly anticipated game reveals to comb through — including BioWare's Anthem, Sony's Spider-Man, and Bethesda's The Evil Within 2.
Thanks to the Electronics Entertainment Expo's fast-paced environment however, it's easy for attendees and viewers watching online to miss some of the show's biggest announcements no matter how attentive you are. So with that in mind, we've come up with a definitive ranking of the best video game trailers presented this year at E3.
(Please keep in mind that this list doesn't include every major trailer, but rather those we felt stole the show by a long shot).
10. Assassin's Creed Origins
After being in development a little over three years, Assassin's Creed Origins marks the series return with a prequel narrative set in Egypt. There's a complete overhaul to combat which makes the game play like The Witcher 3, a new gear system focused on crafting what you need, and a gorgeous new map full of secrets to uncover.
9. The Evil Within 2
One of two major video games presented at the end of Bethesda's E3 press conference, The Evil Within 2 is a sequel to Shinji Mikami's horror game The Evil Within from 2014. While met with mixed feelings, the original was a horror masterpiece with a couple frustrating mechanics, ones which will hopefully be fixed in the next chapter coming this October.
8. A Way Out
Shown during EA Play this Saturday, A Way Out is a promising tale from the same director who brought us the heartfelt game Brothers: A Tale of Two Sons back in 2013. The game follows Leo and Vincent, two convicted prisoners who must break out and run from authorities — who are each controlled by players. The entire game is built for split-screen cooperative multiplayer, and looks like an epic challenge with a great setting to dive into.
7. Far Cry 5
Originally teased in May with a few short trailers and a promotional art poster, Far Cry 5 is bringing the series to the United States where players will take down a doomsday cult in the heart of Montana. There's fishing, a whole new Guns for Hire recruit system, and a cooperative campaign — all of which we can't wait to get our hands on come 2018.
6. Wolfenstein II: The New Colossus
MachineGames is best known for bringing Wolfenstein back for the modern age with 2014's Wolfenstein: The New Order, complete with a Nazi-occupied America and gigantic robotic war dogs. Naturally, Wolfenstein II: The New Colossus is just as insane (if not more so), and Bethesda's presentation concluded on a high note with the official reveal of the game.
5. Middle-Earth: Shadow of War
While we've known about Middle-earth: Shadow of War, the sequel to 2014's Shadow of Mordor, for quite some time — the trailer shown during Xbox's press conference introduced us to some hilarious, witty characters, while also showcasing a new level of depth for the game's improved Nemesis System.
4. Monster Hunter World
Sony's press conference this year wasn't filled with as many major reveals as fans expected, but the unexpected fan favorite was undoubtedly: Monster Hunter World. Beloved in Japan, the action-RPG franchise is built on cooperative eliminating gigantic beasts with your friends, and we can't wait to see it hit consoles and PC in early 2018.
3. Spider-Man
Closing out Sony's press conference was our first look at Insomniac's upcoming open world Spider-Man experience in a 9-minute demo filled with comic references and web-slinging antics. While it feels similar to say, Batman: Arkham Knight from a navigation standpoint, the animations look crisp and really help to bring Spider-Man back to the world of video games in a meaningful way.
2. Star Wars Battlefront II
Even though we knew that Star Wars Battlefront II was going to be the main video game of EA's press conference, it didn't stop us from enjoying the epic battles of the Clone Wars during the game's multiplayer reveal. Complete with Darth Maul, clone troopers, and a handful of promising changes to fix the problems at the heart of 2015's Battlefront, Battlefront II is sure to be an epic experience this November.
1. Anthem
Revealed for the first time during the end of Microsoft's Xbox press conference on Sunday, Anthem is BioWare's new multiplayer IP where players take control of mechanical exosuits called Javelins to fight back the wilderness and keep humanity safe in a post-apocalyptic world. Each of these suits can be fully customized too, adding in a layer of player choice we're excited to learn more about as BioWare reveals more details about the game.