Razer Reveals Thresher Ultimate Gaming Headset for Xbox and PS4
Long respected for its PC products, Razer takes its first step towards console support.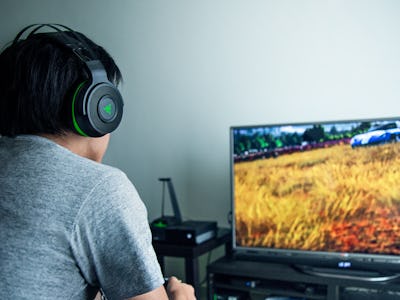 Razer
Razer has a well-earned reputation among PC players for making some of the best gaming peripherals out there, as it boasts one of the best gaming laptops in the business. But now, following a series of controllers and gamepad releases over the last few years, the company is finally stepping into the world of console gaming with the Razer Thresher Ultimate — a premium headset specifically designed for players to use with their Xbox One and PlayStation 4 consoles.
Announced on Tuesday at E3, the Thresher Ultimate is a wireless headset designed to sit comfortably on your head during long gameplay sessions thanks to over-the-ear cups heavily cushioned with memory foam. As you'd expect, these also help to cancel out any residual noise coming from the room around you, giving you a way to avoid loud interruptions from a passing siren or next-door neighbor and focus on the gaming in front of you.
From a sound quality standpoint, the Thresher Ultimate delivers Dolby 7.1 surround sound wirelessly when the docking station is hooked into your Xbox One or PlayStation 4 via optical input. This wireless connection will remain stable for up to 40 feet with a direct line of sight to the docking station, but will be cut down to around 20 feet if you happen to walk around a hard surface such as a wall or door.
What's great is that the docking station features a double antenna too, meaning that it will automatically swap to whichever wireless band has a more stable connection while you're using the headset to provide the best possible audio experience. This also carries into the headset's fully retractable microphone as well, which you'll be able to use easily with both Xbox Live and PlayStation chat on your console of choice.
All the standard audio controls – volume, microphone mute, etc. – can be found on the headset itself, while the PlayStation 4 version allows for you to adjust the balance between game sound and voice chat as you see fit. You'll also find it compatible with Microsoft's newly announced Xbox One X, with a separate blue PlayStation 4 version available. If you're a PC gamer who's interested in picking up one of the versions for yourself, both Thresher Ultimate models are fully compatible with your system — so feel free to snag the color scheme which best suits you.
The Razer Thresher Ultimate headset is available for pre-order now, and will ship worldwide in July for $249.99.