The Next 'Battlefield 1' Expansion Isn't Coming Until September
Players will be waiting for quite some time to fight as Russia.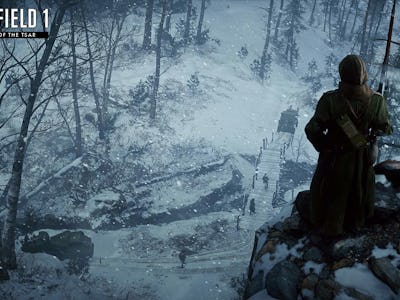 battlefield.com
Announced earlier this year, the next Battlefield 1 DLC In the Name of the Tsar is scheduled to bring players to the Eastern Front as the Russian Army across a new set of in-game maps with new weapons, vehicles, and a few new progressions systems which overhaul those currently in place.
While the internet responded with mixed feelings about the expansion initially, there's no question that Battlefield 1 is clearly in need of some additional downloadable content following the release of They Shall Not Pass in late March.
During the opening section of EA Play this weekend, Battlefield 1's producer Andrew Gulotta joined members of the Battlefield community to look back at some of the wildest moments from the game so far, following things up by introducing night maps to the game with Nievelle Nights and Prise De Tahure (which will be coming this June and July).
Then, to many players surprise, Andrew Gulotta confirmed that In the Name of the Tsar will be coming to Battlefield 1 in September — meaning that there will be a six-month between expansions by the time it releases this fall.
Many Battlefield 1 players assumed In the Name of the Tsar would actually be releasing this summer — in either June or July — based on Battlefield's previous DLC release schedule. Unfortunately, it doesn't look like that'll be the case.
What's great is that the expansion will include more maps, for a total of six new maps, alongside the standard new set of weaponry, a revamped assignment mechanic, and what Gulotta described as a "deeper player progression system."
It's a long wait compared to Battlefield's standard release schedule, but if the new teaser trailer is any indication, it'll be an expansion well worth it.