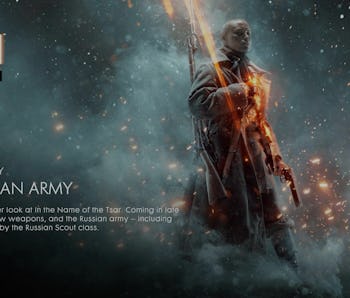 Gaming
The Next DLC for 'Battlefield 1' Will Add Female Soldiers
Storm the trenches as a member of the Women's Battalion of Death this summer.
imgur.com
The next Battlefield 1 DLC, In the Name of the Tsar, is bringing players to fight on the Eastern Front as members of the Russian Army, introducing a set of new maps, weapons, and vehicles for the game's multiplayer experience. Along with all the standard additions we've come to expect from DICE, the next expansion will also be introducing playable women to the battlefield — and players seem to have mixed reactions about the announcement.
In a tweet from the official Battlefield Twitter account, DICE confirmed the Russian Army's Scout class would be represented by members of the 1st Russian Women's Battalion of Death. Made possible in 1917 by the fall of tsarism, all-female combat units were formed during the summer to help raise troop morale and restore the Russian Army to battle readiness for the final offensive of the war. It was here where Maria Leontievna Bochkareva established the 1st Russian Women's Battalion of Death, which would be called into action against the Germans during the Kerensky Offensive.
Since an estimated 6,000 Russian female combatants served in World War I, DICE adding members of the Russian Women's Battalion of Death into Battlefield 1's multiplayer makes sense — but that didn't stop players from voicing their opinions against the decision to turn the Russian Scout class into a historical representation of Russia's female soldier.
And yet, there were just as many players supporting DICE's decision, going after those who commented about female soldiers breaking immersion or not playing into history properly.
Either way, the decision to add female soldiers from the Russian Women's Battalion of Death fits perfectly with the game's focus, which was all about highlighting the various theaters of World War I and telling the stories of the valiant individuals who fought within them. The single player campaign included African American soldiers from the Harlem Hellfighters, a female Bedouin protagonist fighting against the Ottomans, and dozens of other soldiers from various backgrounds.
EA has confirmed DICE will be sharing more details about Battlefield 1's next expansion at EA Play this June in Hollywood, which is when we can expect to see some of Russia's finest taking the battle to the front lines in In the Name of the Tsar.