Your Guide to Every Major E3 Live Stream and Press Conference
How to prepare yourself for the biggest gaming event this year.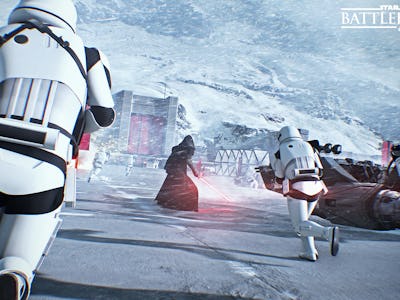 Electronic Arts 
The Electronics Entertainment Expo is right around the corner, promising to showcase a massive lineup of returning favorites and brand-new gaming experiences for players to dive into later this year. As always, Microsoft and Sony will be present to unveil new hardware and exclusive titles for their respective consoles — which includes Microsoft's highly anticipated Project Scorpio. Many major publishers like Electronic Arts, Bethesda, and Ubisoft are also scheduled to host their own conferences on stage too, filled with information regarding Star Wars Battlefront II, Far Cry 5, and a new role-playing game from the talent teams of BioWare.
Regardless of the video games you're looking forward to seeing at E3 this year, the weeklong event remains a little chaotic no matter how prepared you feel — which is why we're here to help. Here's a rundown of every major conference and presentation at E3, along with what to expect within each show.
EA Play | Electronic Arts
What to expect: Electronic Arts will be holding its own event outside of E3 once again, kicking off the weekend before every other major press conference. This year you can expect to see Star Wars Battlefront II, FIFA 18 (along with EA's usual sports lineup), Need for Speed: Payback, and a look at the Star Wars project being developed by Visceral Games. Plus, there's the potential for BioWare to show off an entirely new IP the studio has been working on for the past few years.
When: Saturday, June 10 at 3 p.m. Eastern.
Microsoft
What to expect: This year is shaping up to be an interesting one for Microsoft because of Project Scorpio's impending release and a dwindling number of exclusives for the Xbox One console. While we already know Halo 6 won't be making an appearance, Microsoft is likely going to be bringing State of Decay 2 to the show along with Sea of Thieves and Crackdown. As for what's coming after that, we'll just have to find out.
When: Sunday, June 11 at 5 p.m. Eastern.
Bethesda
What to expect: After making an appearance with its own press conference for the first time three years ago, Bethesda has quickly become a massive player in the usual E3 conference lineup. With Prey and Dishonored 2 out, Bethesda's likely to tap into Fallout 4 VR once again while revealing the sequels for Wolfenstein: The New Order and The Evil Within. There's rumors of a new science fiction themed role-playing game called Starfield circling around too, which we'd be happy to see make an appearance.
When: Sunday, June 11 at 12 a.m. Eastern.
PC Gaming Show
What to expect: Even though E3's PC Gaming Show ususally runs for a few hours, it's packed with content for the PC community to enjoy. At this point we know Microsoft will be attending along with Tripwire Interactive, Bohemia Interactive, Bluehole, and Creative Assembly. Expect to see long developer discussions about Total War: Warhammer 2, PlayerUnknown's Battlegrounds, Lawbringers, Agro, and Rising Storm 2: Vietnam.
When: Monday, June 12 at 1 p.m. Eastern.
Ubisoft
What to expect: Ubisoft's had a good year so far with the recent announcement of Far Cry 5 and the success of Ghost Recon: Wildlands, but E3 is planning to bring plenty more to the table. Ubisoft has already confirmed Far Cry 5 and The Crew 2 will be present during the conference, but you should also be ready to see the reveal for the next Assassin's Creed game and content updates for Rainbow Six Siege.
When: Monday, June 12 at 4 p.m. Eastern.
Sony
What to expect: For the past few years, Sony has amassed a reputation for holding the best E3 press conference of the show — and this year isn't looking any different. Sony's already confirmed God of War, Days Gone, and Spider-Man will be present at the conference. It's safe to say we'll also see Call of Duty: WWII, Destiny 2, and a possible demo for The Last of Us: Part II to conclude the show too if Sony's previous conferences are anything to go by.
When: Monday, June 12 at 9 p.m. Eastern.
Nintendo
What to expect: Nintendo has been hosting their own E3-focused Nintendo Direct for a few years now, and this year will be no different. Expect to see updates on Super Mario Odyssey, Splatoon 2, Fire Emblem Warriors, and a few other smaller titles for the Nintendo Switch. Nintendo's new 2DS will probably make an appearance as well, but many seem to be waiting for news regarding Monster Hunter XX releasing in the West this August and the rumored reveal of Pokémon Stars for the Nintendo Switch.
When: Tuesday, June 13 at 12 p.m. Eastern.