'Into the Breach' Is the Next Project From 'FTL' Creators
Prepare to face some strategic kaiju.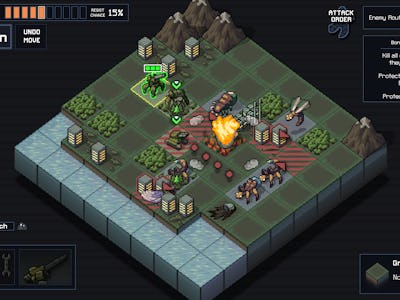 Subset Games
Subset Games, developers of the instant classic FTL, is back with a new sci-fi indie creation: Into the Breach, a game that brings the fight to Earth in a post-apocalyptic strategy game. Humanity is hanging on by a thread as massive kaiju, otherwise known as the Vek, resting beneath the earth grow increasingly aggressive. Players must protect their cities, which power valuable military equipment, from destruction, strategically maneuvering across an isometric grid to wipe out these towering threats.
Into the Breach allows plenty of opportunity to build up an impressive army of mechs, complete with unique pilots to command them. As players progress, they'll come across new weapons, characters, and upgrades and can adjust their strategy against the Vek accordingly. Based on the announcement trailer, the game features some beautiful pixel art as well as a spectacular soundtrack from FTL composer Ben Prunty.
The game follows in the footsteps of FTL's legacy, an immensely challenging spaceship management sim. In FTL, players manage the minutiae of operating a spaceship while also engaging with crew members and making life or death decisions in battle. Though it can often feel punishing, FTL was largely praised for its superb writing and polished design.
Into the Breach looks to be falling in line with that aesthetic, but we'll have to see how insanely difficult it will be. If it's anything like FTL though, I'd say people are certainly up for the challenge. Into the Breach is coming to PC when Subset Games "feels it's ready."
We are shining a spotlight on some of the millions of small businesses now challenged by Covid-19. This is part of an ongoing commitment our parent company, Bustle Digital Group, is making to support small businesses throughout the entire month of May. Tell us about your favorite small business on social media using #SmallBusinessSalutes.