The First 'Attack on Titan' Season 2 Trailer Looks Grim for Humanity 
The upcoming season debuts in April 2107 and will feature a slew of new Titans.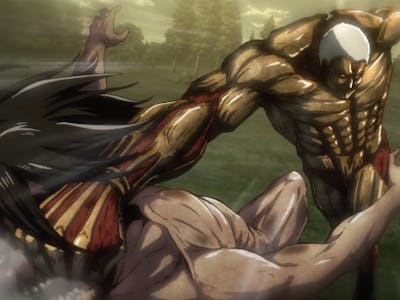 Funimation
Christmas just came a day early for Attack on Titan fans. Funimation just released a teaser trailer for the highly anticipated Attack on Titan: Season 2.
The animated series and video game spin-offs follow a group of cadets in the Survey Corps, a militia-style group that serves as the tip of the spear in humanity's fight against the gigantic Titans, a mysterious group of giants with a serious hunger for human flesh.
The new trailer begins with footage that most fans will find familiar: an army of Titans ominously striding towards civilization. All that stands in between the menacing hoard is Wall Rose, one of humanity's last lines of defense.
Unfortunately, in the trailer we see the wall has been breached, which could spell doom for humanity. But the core squad of protagonists — Eren, Mikasa, and Armin — won't go down easy. "Only when a person stops fighting do they lose. As long as we continue to fight, we are not beaten," the group says. All three are back and in prime fighting form, showing off their fighting techniques in the new trailer.
Last season, the Scout Regiment took on the task of defending the men and women of the three districts against the man-eating giants. According to the newly released footage, things do not look like they will be getting any easier for the group as the Colossal Titan makes a powerful return. It looks like they will be up against even more Titans than ever before, and gives us our first look at the new Beast Titan.
But, not all Titans are evil as is the case with Eren Jaeger — who has the ability to turn into a Titan. Perhaps in the new season, which debuts in April 2017, fans will get answers to some major questions. Like, will Commander Erwin Smith will use Titans hidden among the districts' citizens as a counter force against the man-eating giants? And does Eren hold the key to restoring the Walls?