12 Million 'Pokemon Go' Players Are Already Abandoning the Game
Don't worry, there's plenty of other good augmented reality out there.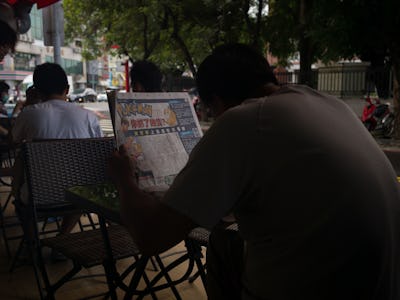 Getty Images / Billy H.C. Kwok
After just 47 days of blissful addiction, cheating, and disappointing updates, people are finally starting to get tired of Pokémon Go.
Pokémon Go's number of daily active users has peaked and is now on a downward slide, Bloomberg reports. Ars Technica estimates that there are around 12 million fewer daily users than the game's July peak. Downloads, engagement, and the amount of time spent per day are ticking down as well.
According to Axiom Capital Management analyst Victor Anthony told Bloomberg the decline of Pokémon Go is a good sign for other mobile apps like Facebook, Instagram, and Tinder that are competing for screen time. As Nintendo's shares spiked, then collapsed, on the back of Pokémon Go, every other app — and business, for that matter had to deal with the fact that players had less time available for anything else in life.
"Given the rapid rise in usage of the Pokémon Go app since the launch in July, investors have been concerned that this new user experience has been detracting from time spent on other mobile focused apps," Anthony said. He also added that "the declining trends should assuage investor concerns about the impact of Pokémon Go on time spent on the above named companies."
But it doesn't stop there. Anthony relates the game to the overall interest in augmented reality games in general. The Google Trends data for virtual reality versus augmented reality show that other than a sharp spike in A.R. searches surrounding the release of Pokémon Go, search interest in A.R. is far below VR. Of course, major VR brands like Oculus, Samsung Gear, and Google Cardboard, are pushing their VR initiatives and driving searches.
Pokémon Go was hardly the first game to capitalize on A.R. Before nostalgia became a business plan, Pokémon Go creator Niantic created Ingress, a worthy A.R. game to try out. If you're into zombies, try out Zombies Go or Zombies Run. If aliens and first person shooters are more your style, take Clandestine Anomaly out for a spin.
Pokémon Go hype may be leveling out, but don't count out A.R. just yet.