Microsoft Addresses Orlando Shooting Before E3's Video-Game Presentation
"You should know you are not alone. The gaming community mourns with you."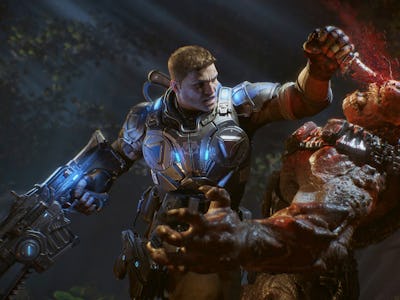 Xbox
After the largest mass shooting in U.S. history occurred at a nightclub in Orlando, and hours before that the murder of singer Christina Grimmie by a shooter at an autograph signing, the video game industry was at a crossroads as the annual E3 trade show began in Los Angeles. As major companies like EA, Bethesda, Sony, and more were ready to tout their slate of new games, the glorified, simulated violence in them (many from shooter games) would have been difficult to process, given the climate.
While E3 left it up to individual publishers to decide how to proceed, Microsoft on Monday afternoon began its presentation with Head of Xbox Phil Spencer offering condolences and thoughts to the victims.
"To everyone affected by the recent tragedy in Orlando, our hearts are with you," he said in a spotlight and the Xbox logo stage piece illuminated behind him. "You should know you are not alone. The gaming community mourns with you."
Throughout the show, Xbox presenters wore rainbow pins as a sign of support. Otherwise, the show proceeded as any E3 would, with The Coalition's Gears of War 4 demoed on stage first. Without the statement, the game's gruesome violence would have deflated the whole thing.
Given the short time since the tragedy, it was perhaps the best move by Microsoft. Unambiguously addressing Orlando softens the jarringly indulgent images Microsoft showed off in games like Battlefield 1, The Division, and non-shooters like We Happy Few. If not for it, Microsoft would have appeared grossly tone-deaf like in its Sea of Thieves demo wherein gamers gleefully yelled "Die!" to each other set to cartoonish pirate music.
Microsoft wasn't the only gaming company to voice support at E3. Presenters for Electronic Arts (EA) and Bethesda, including former G4 personalities Adam Sessler and Morgan Webb, also bore rainbow pins on Sunday night. While Bethesda did not reference the tragedy before or within its presentation, it declared on Twitter unity with the LGBTQ community by changing its avatar as well as Bethesda's VP of PR Peter Hines commenting about E3 on his personal account.
EA, who has the Tiburon studio in Orlando, also published a statement on the company's Twitter.
E3 continues this week with Ubisoft and Sony presenting on Monday along with Nintendo's Treehouse Live on Tuesday.