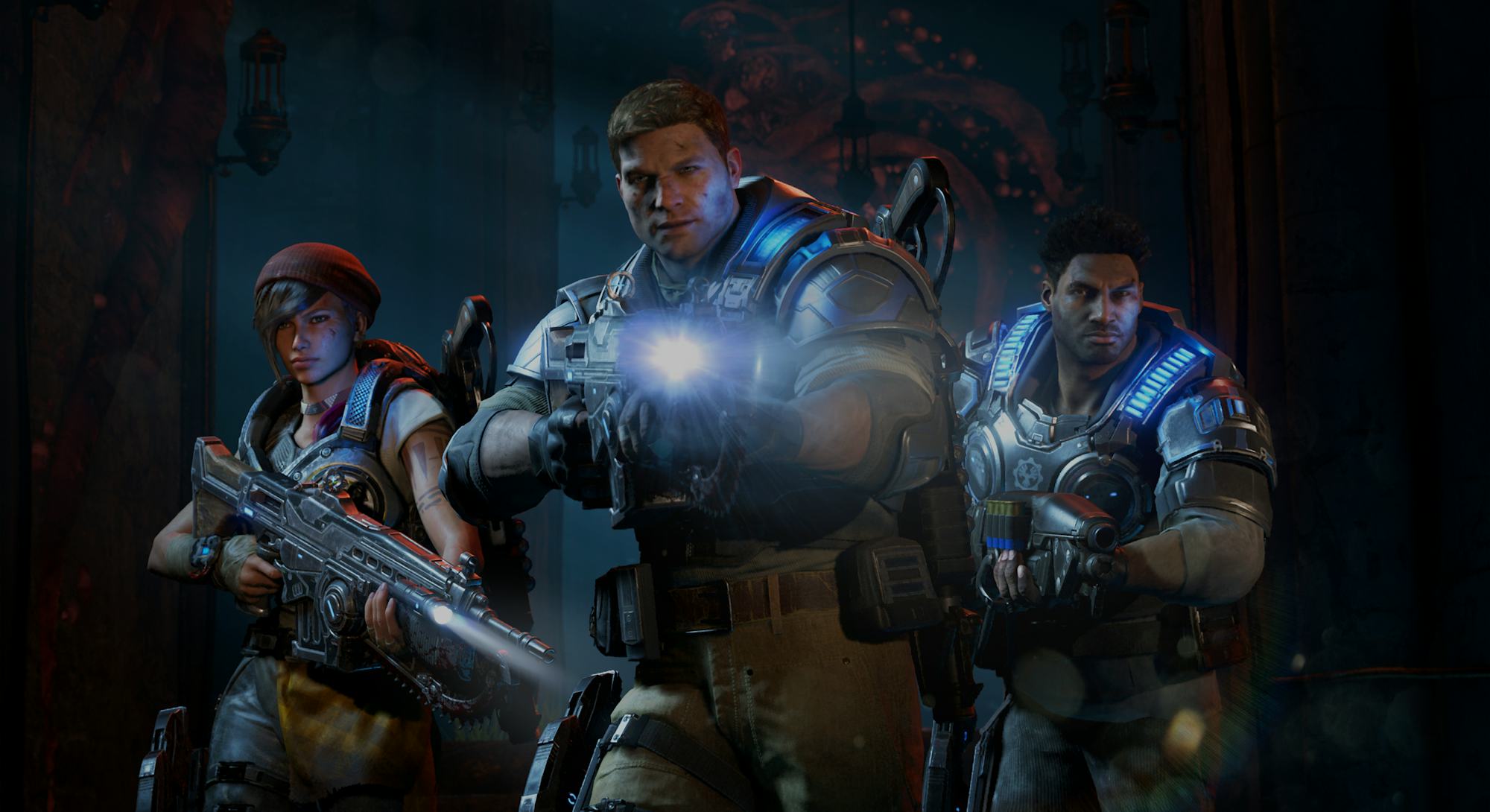 Gaming
'Gears of War 4''s Rod Fergusson Can't Make Survival Horror With Chainsaw Guns
The Coalition's Rod Fergusson talks to Inverse about what's new, and what's old, in 'Gears of War 4' coming to Xbox One in October.
Xbox
Extending a trilogy and making sure it's still fun the fourth time is not an easy task. Rod Fergusson, and Vancouver studio The Coalition are trying where others have failed with Gears of War 4, the continuation of the acclaimed third-person shooter series exclusive to Microsoft and Xbox. While talking to Inverse, Fergusson expressed the challenge of picking up where a complete story left off.
"We talked a lot of different options: Should we do a prequel? Origin story? An alternate planet? We wanted to build a foundation for a future saga," he said. "We wanted to stay on Sera but move the clock forward, so we could create a next generation. By moving 25 years, it allows us this young band of characters to move forward."
The original Gears of War — produced by Fergusson and designed by Cliff Bleszinski and North Carolina studio Epic Games — was set on the Earth-like planet Sera during a war between humans and the beastly, war-mongering Locust. Marcus Fenix (John DiMaggio) was the series' protagonist, a disgraced marine who led the COG (Coalition of Ordered Governments) to victory in the final game. Now, in Gears of War 4, 25 years have passed and mankind faces a new threat, seen through the eyes of Marcus's son JD and a new team of heroes.
Starring Liam McIntyre (Spartacus), Laura Bailey, and Eugene Byrd (Arrow) as the game's central trio, Gears of War 4 will release on October 11 for Xbox One. Days before the game's trailer debuted, Fergusson talked to Inverse about what's in store for the next era of Gears of War.
At E3, you said Gears of War 4 will return the original game's "dark and mysterious" elements. Would it be right to call Gears of War 4 a horror shooter, which the first game sort of was?
You can't be survival horror when you have big people with chainsaw guns, it's hard to disempower. If you look at [the first] Gears of War, it was soldiers behind enemy lines. As the series went things got bigger, Gears of War 2 was about war and Gears of War 3 about planetary survival.
We go back to intimacy here because Gears 4 is really a journey of discovery. You are discovering this new threat, you're the first to see these monsters. There's discovering these characters, JD, Kait, and Del. We're back to two player co-op and doing this "one night in the woods" story.
Let's talk characters. How is JD like Marcus and how is he different?
JD wasn't raised in war. When you look at how long the Pendulum Wars were and then the 15 years Marcus has, almost his entire life has been combat. JD, his entire existence [is] peace. He hasn't seen what his father has, he hasn't lived through what his father's lived, so that's shaped his outlook.
When you start Gears of War 4 you don't start as a COG, you start an outsider part of this faction separated from the COG. It's a different philosophy, and that's gonna be interesting about JD. Think, the faster you run from fate, the faster you embrace it. Not wanting to inherit his father's legacy, [yet] pushed to a place he may have to.
Does that mean JD is a guy who smiles? Because Marcus never laughed. He was funny because of how miserable he was. What's JD like in that regard?
One of the things about Marcus, he was in his 40s so as a personality he was established. The nice thing about characters who are 25, it's an opportunity to grow. They haven't been hardened. As part of not taking ourselves seriously, we allow banter and humor each other.
Even though it's the darkest times, you're still allowed to have back and forth. That's what I love about these characters, the way they interact. What's great is our cast, Laura, Liam, and Eugene. They're actually friends so when you put them together, banter just happens and it brings genuineness to the characters.
I can still play Gears of War in my head, that's how intuitive the controls were. How familiar will Gears of War 4 be to play?
That was one of our things we focused on for all development: It has to feel like Gears of War. As we moved to Unreal Engine 4, we lost stuff we had to recreate. A huge focus was just getting the feel like Gears of War 3 again. On top of that is when we started [to make] things better or new.
Cover is what defined Gears of War so that should be an area to innovate, but you don't want to break it. Like you said, it's intuitive, so how do we change without breaking it? We looked where it didn't work, what we call "close cover combat." If two people take cover on opposite sides, it looks silly in a shotgun battle with only three feet separating them. We came up with a defensive and aggressive way to deal with that: "Yank" where you reach over, pull them to your side, pull out this new combat knife and finish them. "Vault," you run towards cover then leap in one stride and stab them with the knife. We wanted to have increased mobility and to solve a problem that didn't look good on screen.
You said you had to adapt to a new engine. Was Gears of War: Ultimate Edition a training ground for that? How did Ultimate Edition prepare The Coalition for the new game?
Totally. Ultimate Edition became boot camp. They had a large team in Vancouver when I showed up and as we were starting Gears of War 4 it was like, what do I do with all these people [that] didn't know how to make Gears of War? So we felt best to rebuild Gears from the ground up.
They were able to reverse engineer and dissect it, understand cover, combat, how to bring in enemies and waves. There's lots of rules that go into making Gears they were able to learn by recreating [it]. It wasn't technology, because Ultimate Edition was built on Unreal Engine 3 whereas we're using Unreal Engine 4, but from a process, from knowledge of gameplay mechanics, it's hugely beneficial.
When Gears of War first released it pushed the envelope of what's acceptable in video game violence. How can you raise the bar in 2016 when think we've seen it all?
Gears of War was always reality plus twenty percent. Everything goes to eleven. I think over-the-topness in our style and mechanics gives permission to do things [that aren't] off-putting.
How can we create spectacle? When you look at the Buzzkill, which is this large cutter saw that throws saw blades, it's about creating "Oh yeah!" moments. That's what we want, feeling like summer action films you get excited and you're cheering. Nobody wants Saving Private Ryan. If I'm bouncing saw blades off the walls and monsters I [should] go, "That's awesome." If you get "I don't feel comfortable" or "That's gross" we've crossed a line.