'Gears of War 4' Trailer Gave Disturbed Frontman Chills
David Draiman, lead singer of melodic metal squad Disturbed is pretty stoked about the trailer for the new Xbox One exclusive shooter.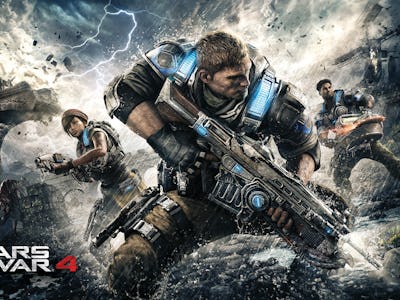 Xbox
Emotional ballads aren't what anyone would typically use to advertise violent shooter games. And yet there's Gears of War, the Microsoft game franchise that plays like a Michael Bay-directed adaptation of a Clive Barker novel. Besides its intuitive third-person mechanics, Gears of War is known for game trailers that tug on the heartstrings, not pump up the adrenaline.
Ten years after Gary Jules's morose crooning was heard in the first Gears of War commercial (using the singer's unique version of Tears For Fears's "Mad World"), the new Gears of War 4 trailer — directed by Henry Hobson who also made trailers for Halo 5, Evolve, and Resistance 3 — continues tradition with melodic metal band Disturbed and their acclaimed cover of Simon & Garfunkel's "The Sound of Silence," which debuted in the Billboard Top 100.
"It gave me the chills," Disturbed frontman David Draiman told Inverse about the game's trailer. "It seemed very, very appropriate for the storyline, for what the main character is going through, and it seems to set the stage perfectly.
"It seemed it was a marriage that was meant to be," the cantor powerhouse adds.
He's not wrong. Simon & Garfunkel's song, about man's inability to communicate, indeed resonates with Gears of War 4 releasing October 11 from Canadian studio The Coalition. Set 25 years after Gears of War 3, the planet Sera is now divided into walled territories to protect itself from an unknown, monstrous entity lurking in the wilds. At E3 2015, director Rod Fergusson said Gears of War 4 will return the series to its darker atmospheres seen in the original Gears of War after the 2008 and 2011 sequels changed the series into straighter war games.
A "big fan" of shooter games, Draiman cites Gears of War as one of his all-time faves. "The storyline was always so dramatic, it really drew you in and kind of helped you role play, so to speak, while you were actually playing the game. I've always enjoyed the series, and it's definitely one of my favorites."
After a head-turning performance on Conan and now blockbuster video games (not to mention, props from Paul Simon himself), Draiman is as hyped as anyone the world embraced the band's ethereal interpretation of the counterculture classic. "It's really been way above and beyond our expectations," he says. "[We are] overwhelmed and incredibly grateful, and to be perfectly honest blown away by the reaction people have had to the song."
Otherwise known for fist-pounding anthems like "Down with the Sickness" and "Indestructible" the band took a left turn during the making of their most recent album, 2015's Immortalized, though Draiman will argue that they weren't exploring new ground. "We hadn't done anything [like "The Sound of Silence"] since Believe when we did an acoustic track called 'Darkness'. It's been a while, but it's not like it's completely uncharted territory for us."
With a suggestion by drummer Mike Wengren, direction by lead guitarist Dan Donegan, and a "beautiful piano line" from producer Kevin Churko, the Chicago metal band took on Simon & Garfunkel's immortal track — despite hesitation from Draiman himself. "I was worried we weren't going to make it our own enough, but I think we did," Draiman said. "I thank them for pushing me in the direction we ended up going, it enabled me to be vulnerable, to go back to a place I hadn't stylistically attempted since I was a young man."
Those years the Disturbed frontman refers to is his youth as a cantor leading Jewish prayer. Draiman, who regularly expressed on social media (prior to deleting them) about his religious identity, trained with some of the best vocal coaches ("In my opinion," he humbly adds) which allowed the metal singer to adapt classic techniques to rock. "Being able to utilize those same principles while still delivering the vocal with a grit, similar to let's say Bob Seger, is not an easy thing."
When I asked Draiman if "The Sound of Silence" and its success indicates a new direction for Disturbed, he said simply, "I don't see why not."
"It was gratifying and wonderful to go in any direction we chose. I think we owe it to not only ourselves, but to the fans we have reached with this track to at least incorporate an aspect of this sort in our future works," he said.
But does that mean Disturbed is now an acoustic orchestral operatic metal? Not really. "We don't want to set limitations of any kind," Draiman explains. "["The Sound of Silence"] gives us the confidence and reassurance to know there are people willing and actually looking forward to material like this, so it certainly can be considered part of our repertoire. But when it comes to who we are and our identity, we will always have the majority of our work be the type that is still aggressive, still intensely melodic but rhythmic, driving, empowering, that is really who we still are and who we always will be."