Disney Cancels 'Disney Infinity' and Its Console Games, Making Your Toys Useless
What once was a cash-cow is now suddenly defunct.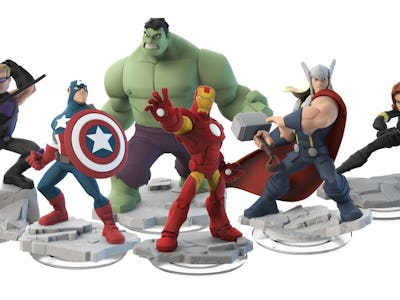 With the opening of Shanghai Disney Resort on the horizon, Disney has released its quarterly earnings report and there's a shocking list of losses, including the startup costs of the Viceland TV network. But most notable is the news that the company will no longer self-publish console games and that Infinity, its proprietary toys-to-life platform that included Marvel, Star Wars and other play sets, is finished.
The company will take a $147 million loss in its second quarter earnings as a result of that shift. The estimated 300 people who work at the Infinity developer Avalanche Software will lose their jobs, according to a report by the Wall Street Journal.
The Infinity games were first released in August 2013 and published by Disney Interactive Studios. The plan was to release a new edition of the game every year with a set of collectable action figures that interacted with the games. The news about Infinity comes as Disney earnings fell short of analysts expectations for the first time in two years, which sent the company's shares down more than 6% in after-hours trading.
In March, the vice President of Disney Interactive said in a Polygon interview: "The company has been completely behind Disney Infinity. If you look at all of the creative content coming out this year, you can see they are still proud and still 100 percent behind us." Since then, the Infinity line has sold under analyst expectations, but was still profitable.
The $147 million charge to offset the cancellation was primarily taken from an inventory write-down. Other factors, like severance for employees and other assets, were also taken into the costs. It's a pretty huge hit to take for a product that still had limitless promise and a dedicated fanbase, though its popularity was fading as more competition from similar games came after it.
There will be two final releases from the Infinity line, including three more chapters from Alice Through the Looking Glass and the Finding Dory playset in June. Disney is reportedly refocusing on a licensing model, so this doesn't mean the end of all Disney games, just their biggest and best.