Wonka Trailer Reverts the Source Material to Where it Belongs
Paul King's prequel take on Willy Wonka isn't really book-accurate — and that's a great thing.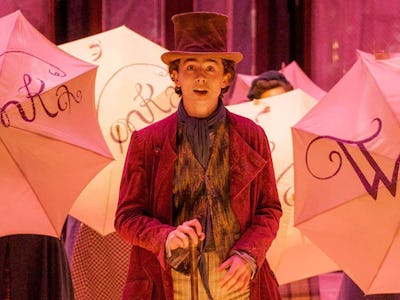 Warner Bros.
When you think of Willy Wonka, who do you imagine? Is it Gene Wilder, sipping from a daffodil and then biting it? Johnny Depp, with his berries-and-cream bob and eerie demeanor? Maybe you're old-school and imagine the pointy Quentin Blake illustrations from the original book. Soon, an entirely new generation of Wonka fans will imagine none other than Timothée Chalamet, thanks to Paddington director Paul King's upcoming prequel Wonka.
But if you look closely at the new trailer for the movie, it's a prequel to a very specific Willy Wonka — and it's not the one from the books. Here's why that may be the best-case scenario.
From the very first seconds of the trailer, when you hear the plinking three-note intro to "Pure Imagination," it's very clear that the Willy Wonka in Wonka is the one from Willy Wonka and the Chocolate Factory, the 1971 movie that turned Roald Dahl's original book into something candy-colored and musical.
In 2005, Tim Burton adapted the book into Charlie and the Chocolate Factory, which used Burton's classic macabre lens to portray a darker (yet kid-friendly) version of the tale — an approach that was far more faithful to the original text.
Wonka being a prequel to that specific Willy Wonka is actually a genius choice. As brilliant as Dahl's writing is, he was writing a cautionary tale, not a theatrical spectacular by the man who brought us one of the highest-rated films of all time. Gene Wilder's Wonka is the screen-friendly version, and this trailer only reflects that more. (Also, Netflix owns Dahl's catalog of work, so a movie based on the book wouldn't really be feasible.)
The choice to go with the Wilder source material instead of sticking with the book makes even more sense when you look at some finer points of the story. Chalamet's token American accent isn't as distracting when you realize Gene Wilder had that quirk too. Plus, the original novel described how Wonka essentially enslaved the indigenous race of Oompa-Loompas from Oompa-Loompa Land (reflecting Dahl's own xenophobia.) Wonka retcons this to show that Willy was followed by an Oompa-Loompa, albeit one that looks a lot like Hugh Grant.
Regardless on your opinions of whether or not Warner Brothers should have made a Wonka prequel, they definitely made a prequel of the right Wonka. Now, we'll just have to wait and see if Timothée Chalamet does that somersault justice.
Wonka premieres in theaters December 15, 2023.