Warrior Season 3's Most Important Episode is a Triumph for the Show — And Its Writer
After decades of bit parts, Warrior star Hoon Lee has become more than that guy whose face you know.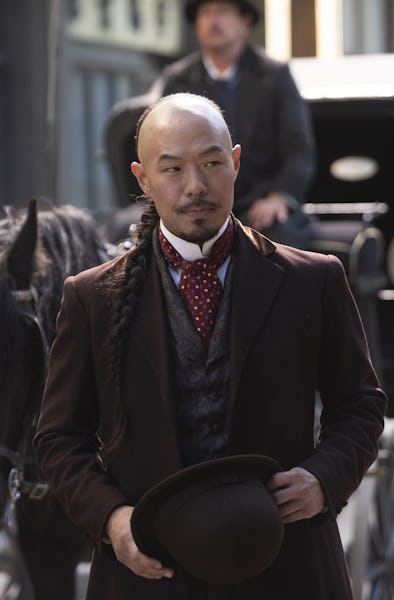 Max
Like all great actors, Hoon Lee knows how to use his voice. Whether in film, television, or theater, the 50-year-old actor's rich baritone helps him carve out a niche as a man of unspoken secrets and unsuspected power. And while Hollywood has finally started to recognize what it has in Lee these past few years — offering him roles in big-budget shows like See or DMZ — it was the one-two punch of Max's Banshee and Warrior that helped make Lee the best television actor whose name you may not know.
In Warrior, Lee's Wang Chao is a friend to everyone but an ally to no one. The Gilded Age's answer to Littlefinger from Game of Thrones, he is the consummate Chinatown power broker and the rare Chinese immigrant to move effortlessly between cultures. But after a career spent playing famous Asian characters created by white writers — from Splinter in the 2010s Teenage Mutant Ninja Turtles cartoon to King Mongkut in The King and I — Lee found a new voice in Season 3: credited member of the Warrior writers' room.
"The subject matter speaks to the lived experience of a lot of Asian American people," Lee tells Inverse. "And so I found that my desire to be as involved as possible with this particular show was very obvious to me and quite acute."
Despite having zero screenwriting experience, Lee submitted writing samples to then-showrunner and close collaborator Jonathan Tropper. Once Lee's involvement had been formally expanded, two scenarios were on the table. In one, he would script an episode focused on Chao, allowing his intimate understanding of the character to narrow the writing process. The other was to sideline Chao for an episode and let Lee focus more of his (already divided) time on the script. After some consideration, they chose option number 2.
Lee wound up writing "You Know When You're Losing a Fight," the eighth episode of Season 3 and an action-packed standout that draws several series-long arcs to their exciting conclusion.
"I found that my desire to be as involved as possible with this particular show was very obvious to me and quite acute."
Writing an episode like this can seem like a tremendous challenge – especially when it's your first credit as a writer on a popular series. Indeed, this is one of the most critical episodes in the show's three-year history. In less than an hour, Lee's episode brings about the unthinkable – the dissolution of the formidable union between Li Yong (Joe Taslim) and Mai Ling (Dianne Doan) – and the tragic death of Mark Dacascos' Kong Pak. Lee's script also nudges Ah Sahm (Andrew Koji) ever closer to finally choosing between his sister and his blood brothers in the Hop Wei.
But while taking ownership of these climactic character moments may seem intimidating, Lee believes he actually had one of the easiest writing tasks of the season.
"The table-setting that occurs in the first half of a season requires much more skill," he says. "You have to make what is functionally 'set-up' compelling, dramatic, and interesting." With the narrative demands of this episode, Lee was able to give his collaborators splashy moments onscreen, setting the stage for what he describes as "big moves that could make the script look quite good."
One such big move is the climactic fight between Taslim's Li Yong and Dacascos' Kong Pak. Few men can claim to have killed Dacascos onscreen, but he and Taslim provide one of the most emotionally-charged fights of the entire season. If you've ever wondered how much of Warrior's fight scenes exist on the page, the answer is just enough to serve the story. Lee speaks at length about the balance between the script and the fights choreographed by stunt coordinator Brett Chan. In short, provide as many details as you can while leaving plenty of space for Chan to revise key moments.
"The way I tried to work on that process was to highlight the points that I felt were dramatic hooks in the fight," Lee explains. "Places where the temperature changes, the tempo changes, places where we know we need to utilize part of the set."
"That was very much on my mind in the writing of that scene. And that was very much on my mind in the writing of that scene."
But if the fight between Taslim and Dascascos is the headliner, it is a quieter scene between Father Jun (Perry Yung) and Young Jun (Jason Tobin) that gives the episode its title. In this sequence, Father Jun admits to his son that he is losing his battle with dementia and tries to impart a few words of wisdom in a rare moment of clarity. It is a scene that Lee describes as deeply personal to his own story.
"I lost my father at the tail end of the pandemic," Lee says. "And that was very much on my mind in the writing of that scene. Partially because he was wrestling with some of the things that Father Jun was wrestling with, partially because the model of a stern father and a rebellious son is such an archetype."
Looking back, Lee found the process on the other side of the script to be even more fulfilling than he had hoped. The best piece of writing advice he took from Tropper and Season 3 showrunners Josh Stoddard and Evan Endicott was to see everything fully formed in his head and do his best to convey that on the screen. At first, Lee was worried that letting go of his vision would be a challenge, but the opposite turned out to be true. The more his costars put themselves into the scenes, the more what Lee saw felt like the right version of his story.
"That was such a marvelous feeling, and it wasn't what I anticipated, but it endeared the process even more to me," he says. "I felt all of this gratitude towards my cast members who were giving it a dimension that it didn't possess before."
So what does the future hold for Hoon Lee, Warrior's consummate hyphenate? While there's a lot of uncertainty surrounding the show, given the recent changes at Max and the ongoing industry strikes, Warrior is no stranger to surviving in the face of tall odds. Lee says he's better prepared to tackle Wang Chao and the writers' room simultaneously if given the chance.
"If we are lucky enough to get a Season 4, and I'm lucky enough to reprise this dual role, I'll have a much better sense of what to expect."
New episodes of Warrior air Thursdays on Max.
This interview was conducted prior to the SAG-AFTRA strike.