Warrior's most epic episode takes on America's racist history
"We didn't want it to be fun. We wanted to feel the pain of this."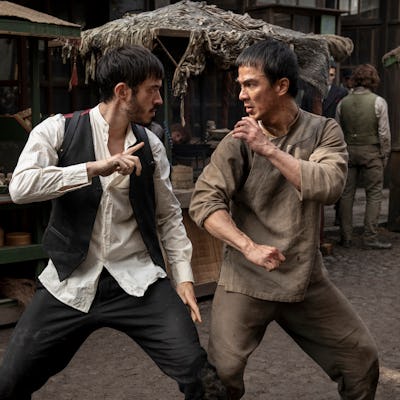 Cinemax
Warrior exploded in its penultimate episode.
"Enter the Dragon," which premiered on Cinemax on November 27 (the 80th birthday of series creator Bruce Lee), was the biggest episode of Warrior yet with an eruption of violence in Chinatown. With lines drawn between the Tongs (the Chinese immigrant gangs who ruled San Francisco's Chinatown) and jobless Irish-American laborers, Warrior ignites street warfare unlike anything seen in American television.
The episode is a rare depiction of widespread anti-Asian racism that haunts America's past and present. In 2020, ancient prejudices against the Asian community have made a chilling return during the Covid-19 pandemic. Although Warrior takes place in 1880s San Francisco, the shock-waves of its thematic punches can be felt now in the 21st century.
"We didn't want it to be fun. We wanted to feel the pain of this," showrunner Jonathan Tropper tells Inverse. "We wanted it dark and dangerous to express the tragedy of what was happening."
The episode wasn't based on just one incident, but many like it. "There were enough of these riots that we were confident to create a riot that was emblematic of all of them," Tropper says. "There was a lot of frustration and sentiment against the Chinese. It didn't take much to strike a match."
Written in 2019 and filmed before the first cases of the coronavirus, the cast and creators of Warrior believe in the episode's raw, timely power. "We shot that before the pandemic," says Joe Taslim, who stars in Warrior as the gangster Li Yong. "I think it's great timing. That scene shows we need to be together. There's no reason to blame each other, to hate each other."
Jason Tobin, who stars in Warrior as newly-crowned Tong leader Young Jun, tells Inverse: "I was fighting for the ghosts of our past, and our present, too."
"I was fighting for the ghosts of our past, and our present, too."
Warning: Spoilers for Warrior ahead.
In "Enter the Dragon," the narrow streets of Chinatown become a war zone when the Tongs, including rival factions Hop Wei and Long Zii, set aside their beefs to take on a white mob terrorizing Chinatown. What unfolds is a literal race war that is both visually arresting and heartbreaking in its disrupted peace of San Francisco's communities.
The violence begins when Jacob (Kenneth Fok), a Chinese servant to socialite Penelope (Joanna Vanderham) is arrested for murdering Penelope's husband, Mayor Samuel Blake. (Jacob was only protecting Penelope from Samuel's abuse.) The city's out-of-work whites, seeking an excuse to hurt Chinese, catch wind of Jacob's arrest and overwhelm the police holding him in custody. After they hang Jacob, they bring their bloodthirst into Chinatown.
As a sea of angry white men closes in, Young Jun tells series protagonist Ah Sahm (Andrew Koji), "I think we spend every day living in their world. Today, they're going to die in ours."
The episode's rage is palpable in a year of surging anti-Asian racism over Covid-19. (It feels especially like a middle finger to President Donald Trump's "Kung Flu.") While there is an irresistible thrill watching Asian street fighters unleash fists of fury on white racists, the brutality of 150-year-old hatred is a splash of ice water in 2020.
"It's the only episode that moved me so much," says Dustin Nguyen, who stars in Season 2 as the gang lord "Zing." He also directed episodes of Season 2. "When you're involved with a show, it's hard to be swept up like an audience. Episode 9 was the first time I was moved emotionally. I can't help but think, 'Here we are.' This was in the 19th century, and here we are. Have we learned anything?"
Shannon Lee, daughter of series creator Bruce Lee and executive producer on Warrior, tells Inverse the episode is "unfortunate commentary."
"I happened to be on set while that was filmed. It is this huge explosion we have been building for some time," she says. "It's a big message to us, if we care to take it."
"We have better technology and faster cars. But how we treat one another, not much has changed."
Throughout the late 19th century, there were many episodes of violence against Chinese immigrants in the United States. The producers of Warrior strived to amalgamate the era's racial violence, which is often a footnote in American history textbooks (or worse, ignored).
The biggest known bloodshed against American Chinese occurred on October 24, 1871. After a Chinese man killed a white man, 17-20 Chinese in Los Angeles' Chinatown were killed by 500 white and Hispanic men in response. On July 23, 1877, another four Chinese in San Francisco were killed by whites in a riot that left an estimated $100,000 worth of damage. The Rock Springs Massacre of 1885 ended with 28 Chinese miners killed, possibly more.
Another incident in 1885 bears a resemblance to Warrior. On February 6, 1885, Eureka city councilman David Kendall was killed by a Chinese man, prompting 600 townsfolk to gather outside the jail and threaten to hang all Chinese in town.
After Congress passed the Chinese Exclusion Act in 1882, Chinese were violently expelled from a number of California cities including Arroyo Grande, Marysville, Merced, Red Bluff, Riverside, and more.
Not unlike discrimination against immigrants today, the Chinese were targeted due to their cheap labor, which left white American workers without jobs. "It was the beginning of the labor movement," Tropper says. "There was a lot of outrage and xenophobia."
Warrior is one of the few American television shows to explore widespread anti-Asian racism in the late 19th century. It's also one of the few new shows to feel relevant in 2020 without face masks on its characters. In July, there were 2,120 instances of anti-Asian-American incidents documented between March and June 2020. This past August, the United Nations published a report that found discrimination towards Asian-Americans reaching an "alarming level across the United States" due to Covid-19.
"Not that much has changed," says Shannon Lee. "Yes, we have better technology and faster cars. But how we treat one another, not much has changed. We are mirroring the current climate and the times with a show that took place a hundred years ago."
Jason Tobin says Young Jun's speech "gave me goosebumps," and made him ruminate on his ancestors' immigrant experiences. "I'm privileged," he says. "When they yell cut, I'm not hurt. I get to go home and enjoy life. But had I been born in a different time? It felt important, through film and art, we fight something that happened years ago. I feel a deep responsibility for that."
"This is history," Tobin adds. "Whether this battle happened is not the point. The immigrants that came before us, that's real."
Warrior airs Fridays at 10 p.m. Eastern on Cinemax.