Warner Bros. Just Saved Its Most Anticipated Movie From a Depressing Fate
Wile E. Coyote finally gets a win.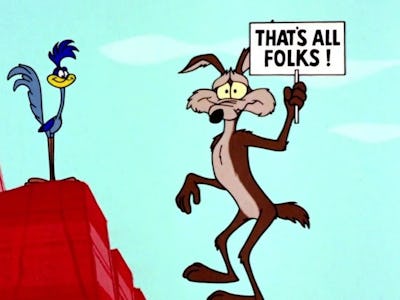 Warner Bros.
Warner Bros. has developed a reputation for mercilessness. In the wake of a merger with Discovery, Batgirl was infamously removed from its release schedule despite being finished. Then already-released HBO Originals, including high-profile ones like Westworld, were removed from streaming platforms. Another notable movie just fell victim to Warner's ruthless cost-cutting measures, but this story has a happy ending.
Last week, Rolling Stone reported the upcoming live-action animation hybrid movie Coyote vs. Acme would be canned as a tax write-off. This was a shocking development for fans. Coyote vs. Acme was originally set for a Max streaming release, but expectations were so high that it was given a star place on Warner's theatrical release schedule: July 21, 2023. That slot would eventually go to Barbie, while Coyote vs. Acme would be consigned to oblivion despite being complete and, according to early impressions, quite good.
Fan uproar was immediate. Petitions were made, complaints were brought to social media, and creatives who worked on the film expressed their disappointment about all their hard work being locked in Warner's vault just to manipulate the company's bottom line.
But on Monday morning, Puck reported that Warner Bros. has walked back its decision. Warner still isn't releasing the movie, but its creators can shop it to other distributors. This is quite the twist given that the Looney Tunes property has always been a flagship of the Warner Bros. brand. Allowing another distributor to release Coyote vs. Acme is akin to Disney allowing a Mickey Mouse movie to be shopped around. It's a surprise, but a welcome one.
This is also a good development for Warner properties as a whole. While Batgirl remains a cautionary tale about how no project is ever truly safe, Coyote vs. Acme proves that fans and creatives can get the attention of those in charge.
While Warner Bros. Discovery may be streamlining its streaming offerings and movie releases, at least there are Plan Bs available. Westworld and other removed originals can still be purchased digitally, while Coyote vs. Acme will almost certainly find a second life elsewhere. The story of Batgirl may be a Hollywood tragedy, but it doesn't need to be repeated.