Tom Holland Acknowledges the Biggest Dilemma Around Spider-Man 4
The next film in the MCU's Spider-Man series will be a huge step for the actor -- and the character.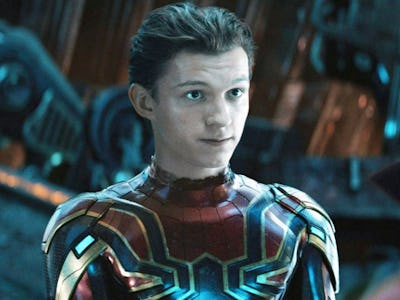 Marvel Studios
Tom Holland is one of the biggest personalities in the MCU, and his character is iconic. Peter Parker has gone from a nobody, to a superhero, to one of many multiversal variants, to a nobody again. So where does Parker — and Holland — go from here? The star has been mulling over the answer, which could jeopardize a possible fourth Spider-Man adventure.
In an interview with The Hollywood Reporter, Holland revealed he sat in on a meeting with Marvel executives to plot out where the story could go after No Way Home hit the reset button. "It's a collaborative process. The first few meetings were about, 'Why would we do this again?' And I think we found the reason why," he said. "I'm really, really happy with where we're at in terms of the creative."
However, Holland is not without his concerns. Fourth movies for Marvel superheroes are often a bit of a bust, with the anemic Thor: Love and Thunder being the latest casualty. What's more, there's never been a fourth Spider-Man movie across the hero's three modern appearances. Tobey Maguire did three movies, and Andrew Garfield did two. Would a fourth Holland movie be any good? Do we even need one?
"There's a bit of a stigma about the fourth one in all franchises," Holland said. "I feel like we hit a home run with our first franchise and there's a part of me that wants to walk away with my head held high and pass the baton to the next lucky kid that gets to bring this character to life."
With the overwhelming praise garnered by Sony's Across the Spider-Verse — and its hero, Miles Morales — it does seem like the Spider-Man identity has outgrown Peter Parker a bit. But if the reasons for continuing the MCU series that emerged from that meeting are enough to justify another adventure, it may just have the potential to break the fourth movie curse. Unfortunately, details are scarce right now; maybe someone pitched a really clever story, or maybe someone just offered Holland a really big paycheck.
The MCU's Spider-Man has already accomplished so many borderline-impossible feats. The franchise has made three solid movies, it managed to follow up the huge event that was Avengers: Endgame without feeling anticlimactic, and it used the multiverse to bring back beloved heroes while (almost) keeping their cameos a secret. If any superhero can manage to make Marvel history with a compelling fourth movie, it's our friendly neighborhood Spider-Man.